Stasher Bags – These Silicone Food Bags Are Beyond Genius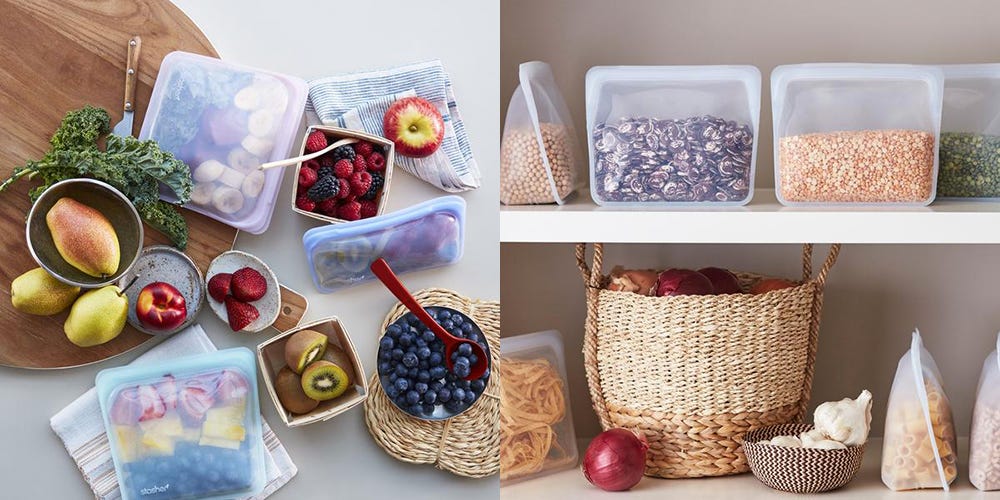 Fed up of using cling film or plastic Ziploc bags to store leftovers? Us, too! We're always on the lookout for products that are not only environmentally friendly, but also super-practical. And we're convinced our most recent find is genius.
Three words: silicone snack bags (courtesy of Stasher).
Made from a platinum silicone, which doesn't degrade over time, these bags can be used for pretty much everything. We're talking in the freezer to the microwave, from the oven to the dishwasher. They can be used to store food, reheat food and even cook food. Yes, cook!
Perfect for everyday use, these food bags are completely airtight and leakproof, letting you keep food fresher for longer. As well as this, they're great for making tasty marinades and sous vide cooking (the list goes on).
What's more (yup, there's more), you can write notes on the outside using a drywipe marker and then wash it off again when you've used the contents. Handy for letting the kids know what's for dinner.
Coming in a variety of shapes and sizes, these silicone bags are the ultimate alternative to singe-use plastic. And take it from me (I use these over and over), they really are quite the investment.
Stasher Silicone Snack Bags are available via John Lewis, Lakeland, Amazon, Anthropologie, Urban Outfitters and Free People.
And since you're here, consider ditching those single-use plastic shopping bags for these tried-and-tested reusable shopping bags or think about swapping in beeswax wraps over cling film!
---
Like this article? Sign up to our newsletter to get more articles like this delivered straight to your inbox.
This content is created and maintained by a third party, and imported onto this page to help users provide their email addresses. You may be able to find more information about this and similar content at piano.io