Dinner time is better when these Slow Cooker Italian Chicken Sandwiches are on the menu! Cheesy sandwiches are filled with Italian seasoned chicken and red peppers in this easy recipe.
Love Italian food? Learn how to make amazing homemade spaghetti sauce sauce in the slow cooker too. Served up with our favorite Olive garden breadsticks, it's a sure hit.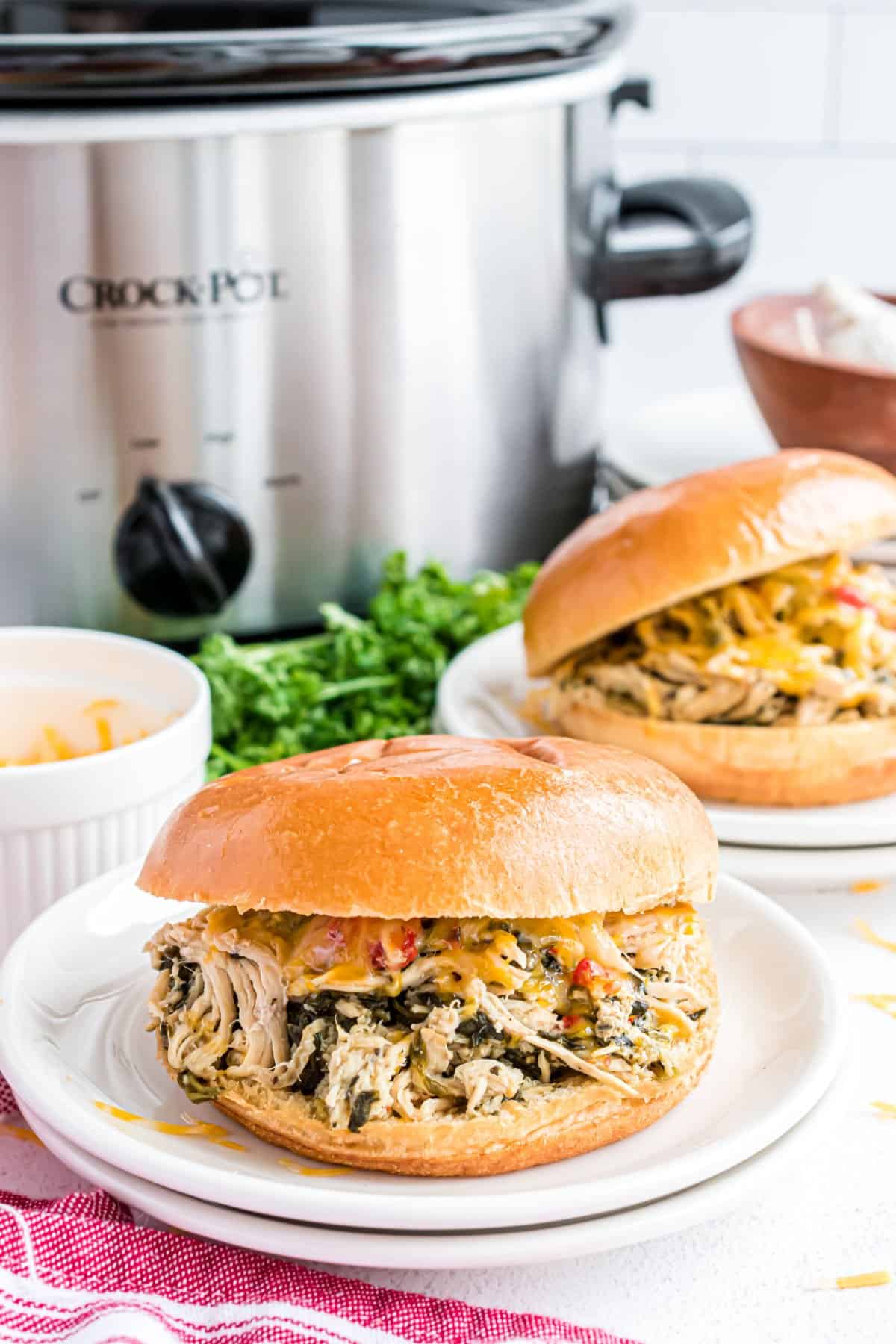 Why These Sandwiches are Best
I love easy slow cooker recipes! The slow cooker makes the chicken easy to shred and gives it time to absorb all the flavors from the marinade.
Made in the slow cooker for juicy, tender chicken.
Topped with lots of gooey melted cheese.
Chopped red peppers for a perfect kick.
Seasoned with aromatic Italian herbs and spices.
The best part is that you can just throw it together in the morning, then basically forget about the chicken until dinner time. Easy, hassle free and delicious.
Ingredient Notes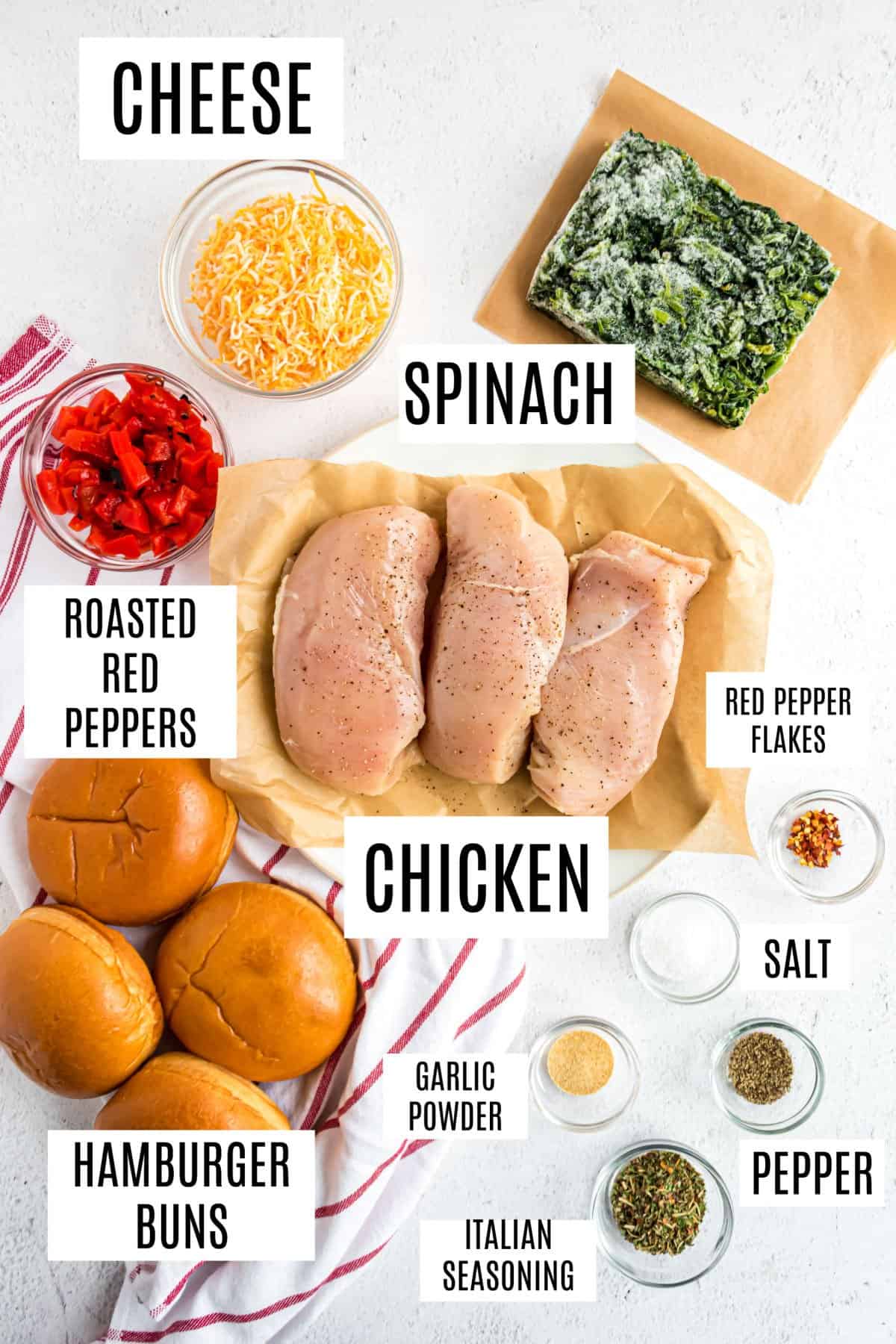 Making today's recipe is simple enough with ingredients you may already have in your pantry. Be sure to scroll down all the way to the recipe card for a complete list with exact measurements.
Chicken breasts – This slow cooking method makes the chicken breasts juicier and more flavorful. Boneless skinless chicken thighs can be used if you prefer.
Italian seasoning – I use this homemade Italian seasoning which is a blend of dried oregano, parsley, thyme, basil, rosemary, marjoram and red pepper flakes.
Roasted red peppers – These give the chicken a little fiery flavor and add a pop of color to your sandwiches. No need to roast the peppers yourself. I just use the jarred ones and they're delicious.
Frozen chopped spinach – Don't thaw and drain the spinach first. The water it releases as it thaws and cooks in the slow cooker adds necessary liquid that make these chicken sandwiches even juicier.
Shredded cheese – I like Colby-Jack on these Italian Chicken Sandwiches. Mozzarella or Monterey cheese would be tasty choices too.
Hamburger buns – Or serve the chicken on any toasted bun or roll you like!
Tips and Tricks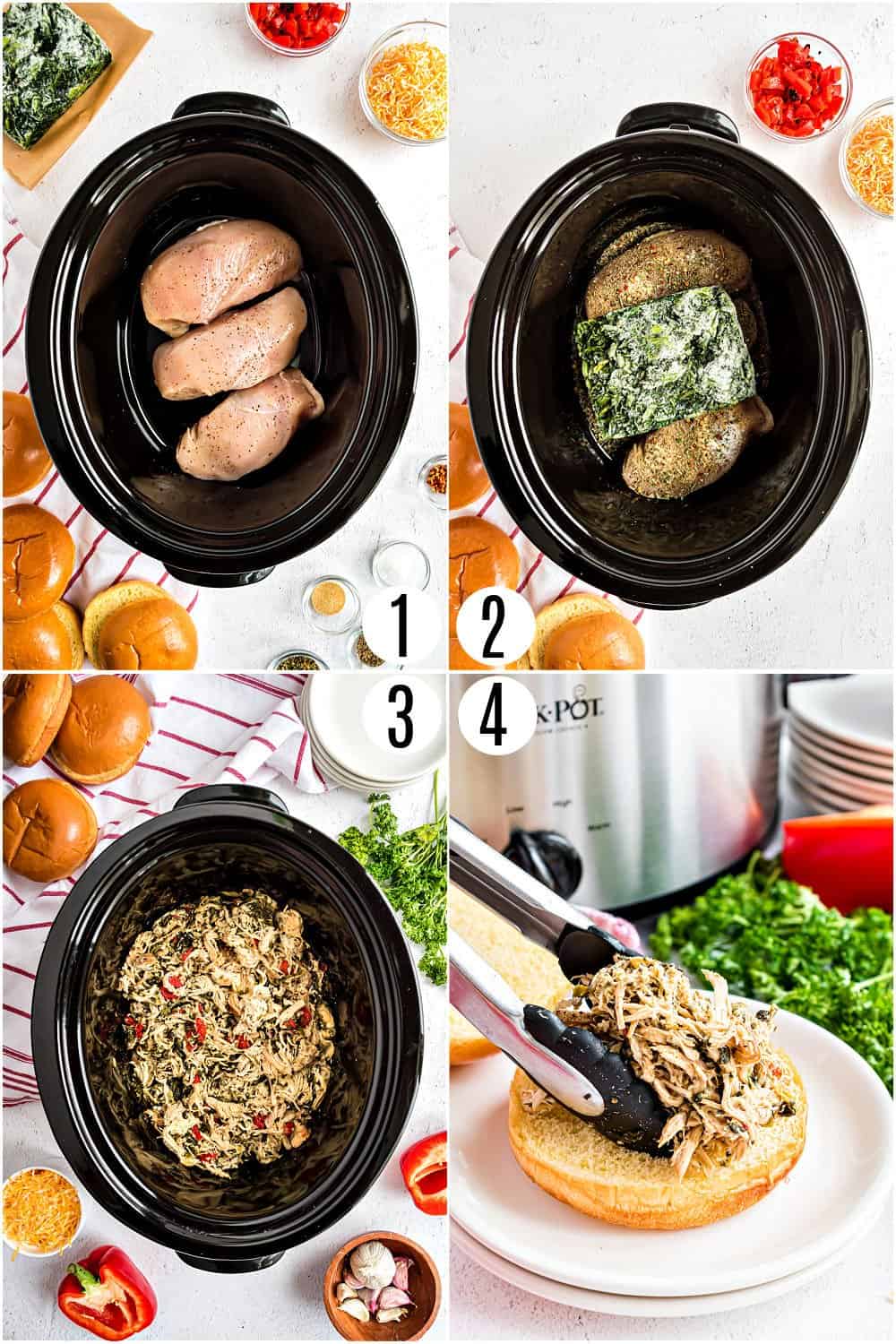 Shred the chicken right in the slow cooker with two forks. No need for a separate bowl.
Add the roasted peppers to the slow cooker after shredding the chicken. Let it cook for another 30 minutes before serving to warm the peppers.
Cook this Italian chicken on the LOW setting for best results. Higher temperatures result in drier chicken with less flavor.
Need more dinner ideas? Our list of easy chicken recipes has dozens of weeknight meal ideas, perfect so you never get bored.
Recipe FAQs
Can I use fresh spinach instead?
Yes, fresh spinach can be used instead of frozen in this recipe.
If you're using fresh spinach, wait to add it until the last hour of cooking time.
What side dishes go well with chicken sandwiches?
The herby flavors in these chicken sandwiches pair perfectly with sides like this easy Italian salad and this orzo salad.
A few sliced veggies with some roasted red pepper hummus for dipping makes a perfect side for these sandwiches too.
Can I use frozen chicken in this recipe?
I make these slow cooker Italian Chicken Sandwiches with frozen chicken breasts all the time! You don't have to thaw it first. Just add it straight from the freezer and let your slow cooker do its job.
Do you need to add any liquid to the slow cooker?
I do not find it necessary to add any liquid to the chicken in this recipe. Don't worry about the chicken drying out–keep the lid on and cook it on low and you'll be set.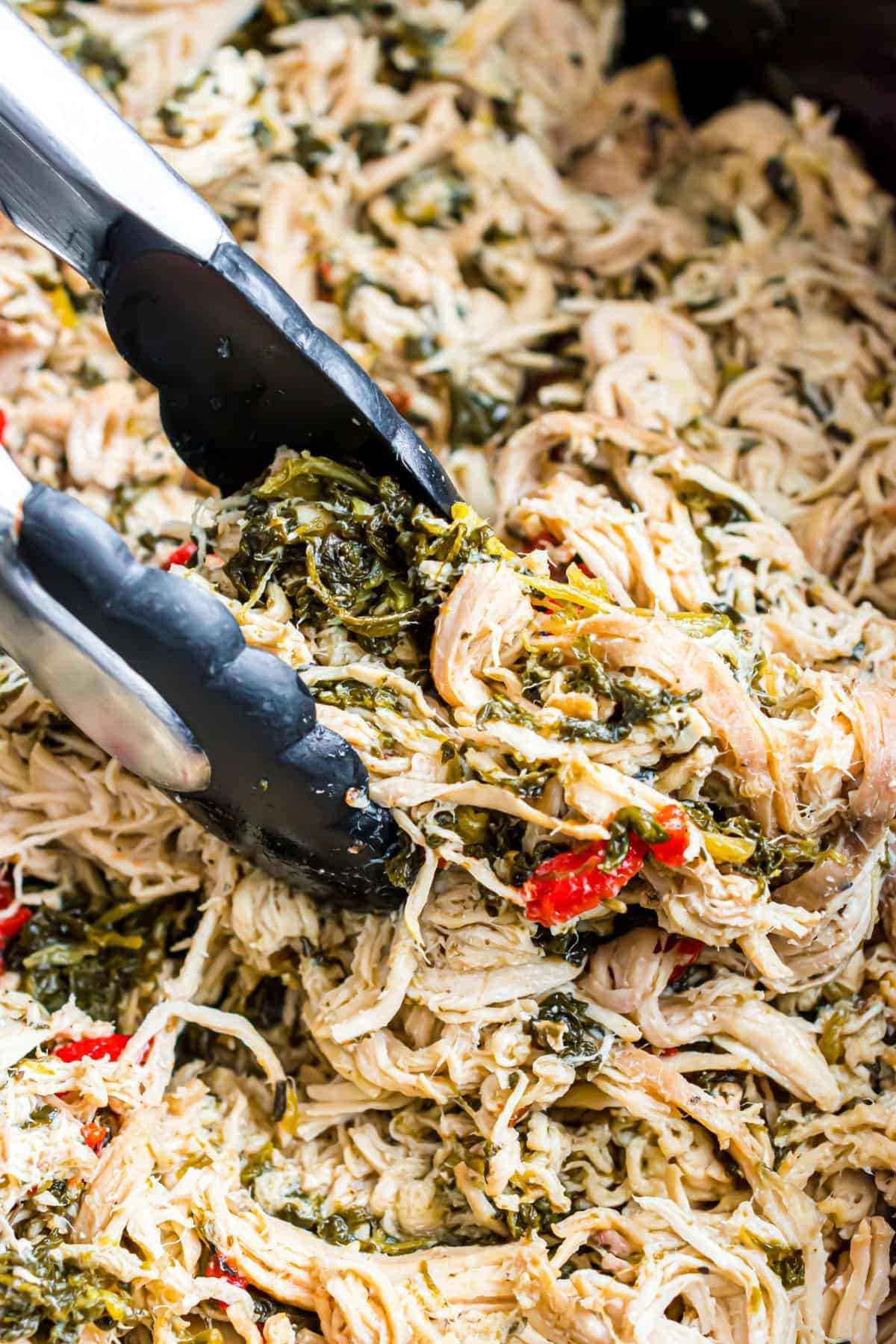 More Easy Dinner Recipes
Cooked low and slow with fragrant herbs and spices, this shredded chicken makes the best Italian Chicken Sandwiches. Serve it on buns with plenty of cheese and dinner is ready to serve!