The Queen's Jubilee is to be celebrated with a four-day weekend to mark the royal matriarch's incredible 70 years on the throne.
Many fans of the royal family will consequently be thinking about hosting lavish meals with loved ones—whether eaten alfresco or in a more formal setting.
Cele Otnes, author and professor emerita of marketing, at the University of Illinois Urbana-Champaign, notes food will play a typically important role at Platinum Jubilee feasts across the U.K. and Commonwealth.
She told Newsweek: "This year there is a 'Platinum Pudding Competition' that was launched to help create a pudding in honor of the Queen.
"The British typically eat 'Pudding' for dessert, which can include lots of different iterations [such as] trifle and puddings in tart shells, so this is a quintessentially British 'thing.'
"It's also tying into the popularity of The Great British Bake Off, which is a media export of which the Brits are particularly proud. This will be featured at the Big Jubilee Lunch."
Search trends analyst Robert Way at Salience Search Marketing suggests there is interest in recipes with retro appeal ahead of this week's Platinum Jubilee celebrations.
He told Newsweek via email: "It's heartening to see that not only are the British public going all out to celebrate the Queen's Platinum Jubilee but also that they're doing it properly and planning to make these much-loved British party favourites from scratch!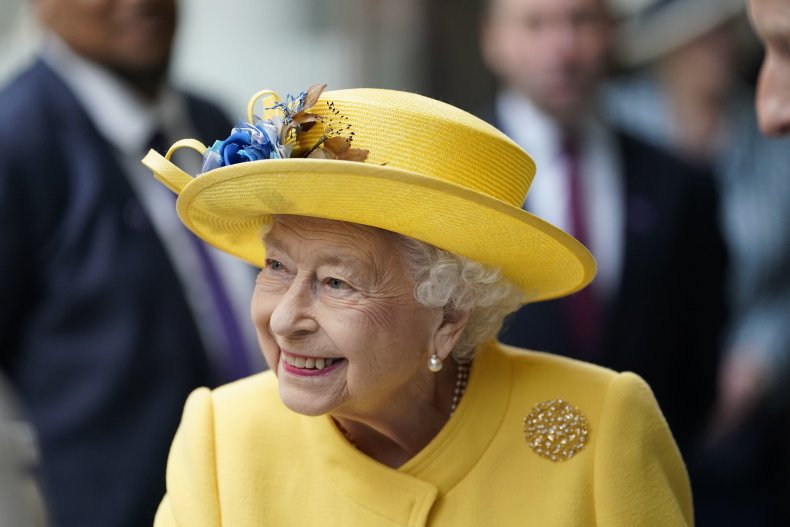 "You might be wondering why searches for Victoria sponge cake recipes haven't seen a bigger spike, but with over 33,000 of the U.K. searching for [these] recipes in an average month, we wouldn't be expecting to see a noticeable 'Jubilee surge'.
"The biggest upset is coronation chicken, we were expecting to see more brits searching for recipes before attempting to whip up a batch in their kitchens, but the data suggests that's not the case, perhaps due to its colonial connotations."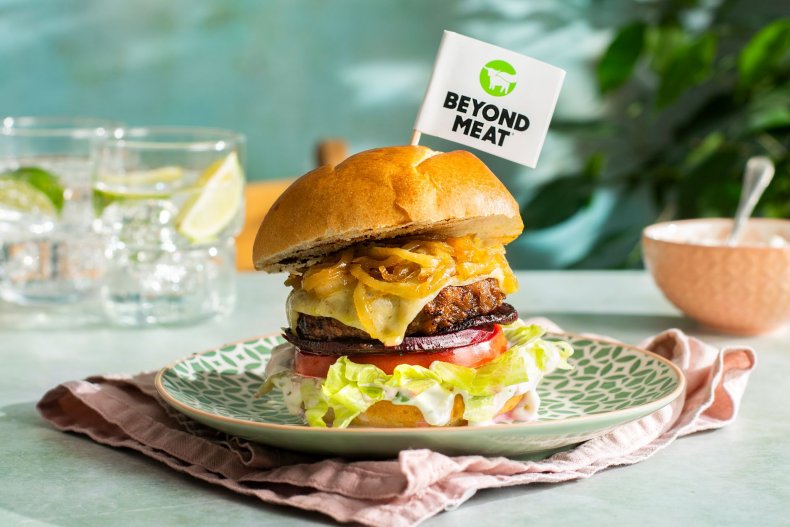 1. Peter Andre's BBQ Beyond Burger
This recipe is made with the Beyond Burger, a plant-based burger that's designed to look, cook, and satisfy like beef.
It has all the juicy, meaty deliciousness of a traditional burger, but comes with the upsides of being a plant-based meal and is packed with 19g of protein and no cholesterol, soy or gluten.
Preparation time 15 minutes, plus marinating time
Cooking time 50 minutes
Serves 4
For the gherkin mayo:
200g plant-based mayonnaise
3 tbsp finely chopped gherkins
1 tbsp fresh parsley, finely chopped
squeeze lemon juice
For the roasted beets:
1 medium beetroot, peeled
drizzle olive oil
Half tsp dried oregano
25ml balsamic vinegar
For the caramelized onions:
1 large onion, peeled
1 tbsp plant-based butter
2 tsp light soft brown sugar
pinch sea salt
To serve:
4 Beyond Burgers
4 soft burger buns
4 slices of plant-based cheese
lettuce, shredded
beef tomato, sliced
Method:
Make the gherkin mayo in advance. Mix all of the ingredients together in a bowl, season with sea salt and black pepper and keep in the fridge until needed.
To prepare the beetroot, thinly slice and place in a dish with all of the marinade ingredients. Cover and leave for at least an hour. Wrap in foil, forming a loose parcel. Place over indirect heat on a hot barbecue and cook for 35 minutes or until tender. Remove from the grill.
To make the caramelized onions, slice the onion into half moons. Using a griddle or a cast iron pan over the barbecue, melt the butter, then slowly start to fry the onions. Sprinkle the sugar over and a pinch of sea salt and continue to cook for 15 minutes or so until soft and caramelized.
When you are ready to serve, cook the burgers over a high direct heat for 4-5 minutes on each side, or until cooked through.
Lightly toast the buns over the grill, on the cut side. Layer with the gherkin mayo, shredded lettuce, tomato and beetroot. Top with a slice of cheese and the caramelized onions.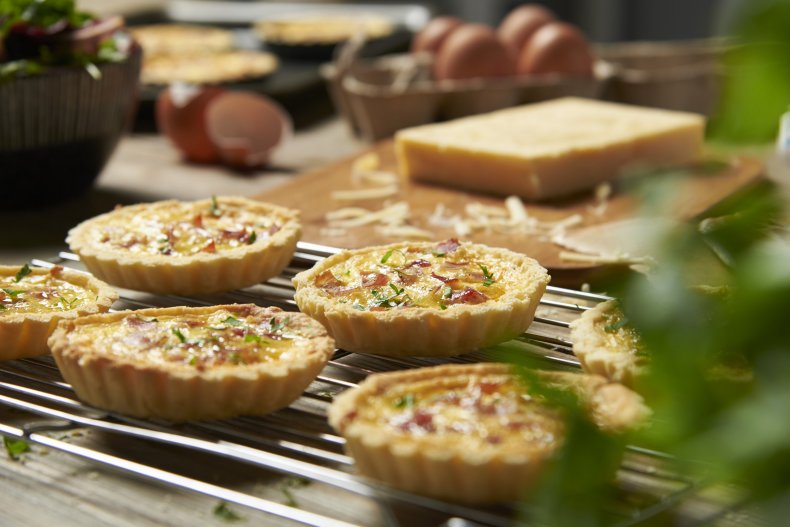 2. Quiche Lorraine
British manufacturer of household appliances Russell Hobbs has created this delicious recipe, for those looking to serve an afternoon tea fit for the queen.
Makes: 8-10
Preparation time: 10-15 minutes plus refrigeration time 40-60 minutes
Cooking time: allow 45 minutes
Equipment: 8-10 Mini removable bottom tart cases, baking beans, baking paper
Ingredients:
For the pastry:
280g plain flour
140g butter, cold and diced
1 tsp salt
6-8 tbsp cold water
For the filling:
3 large free-range eggs
100ml double cream
100ml milk
6-8 smoked streaky bacon rashers, cooked and chopped
½ bunch fresh flat-leaf parsley, chopped
130g red Leicester cheese, grated
Salt and pepper to taste
Method:
Preheat an oven to 160°C.
For the pastry using the mixer attachment—combine the flour, salt and butter in your food processor and slowly add the water to form pastry.
Transfer the pastry onto a lightly floured work surface and finish bringing the pastry together. Wrap in cling film and refrigerate for 20-30 minutes. Tip: This can be prepared in advance or the day before.
Remove the pastry from the fridge; roll out to approx. 3-4mm thick. Cut out discs bigger than your tart cases. (Approx. 2-3cm larger). Lay over the top of each of the tart cases.
Carefully push the pastry into the tins and tuck the excess pastry into the side of the case. Refrigerate for a further 10-20 minutes. Dock the bottom of the pastry with a folk, line with baking paper and fill with baking beans.
Cook for 15-20 minutes. Then remove the baking beans and baking paper and cook for a further 5-10 minutes until golden brown.
Leave to completely cool. Tip: The tart cases can be prepared in advance or even the day before to save time.
In the meantime, for the filling—in a bowl combine the eggs, cream and milk. Then stir in the parsley and season.
Divide the cheese and bacon between the tart cases. Then pour the liquid mixture over the cheese and bacon in the tart cases.
Bake in the oven for 20-25 minutes until golden brown.
Remove from the oven and leave to rest on a wire rack. Trim the excess pastry from the edges and remove from the tart cases.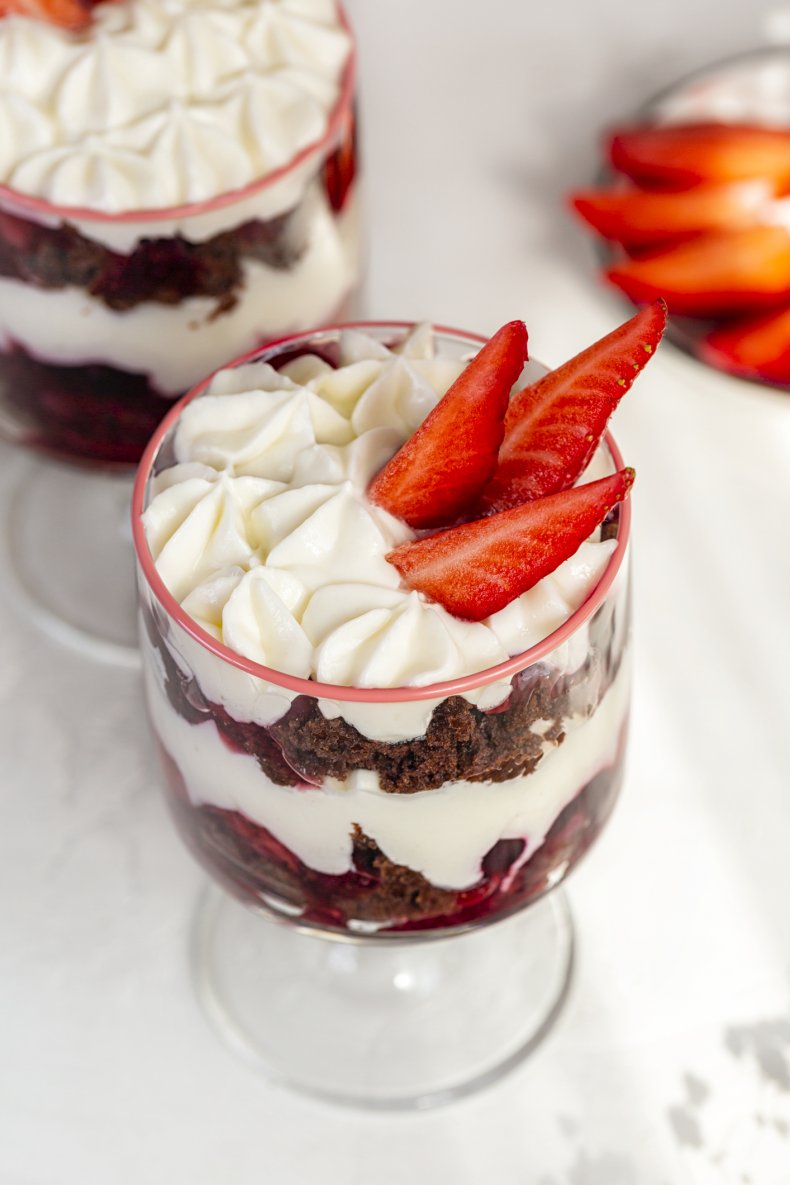 3. Platinum Pudding
The winning dessert from the BBC's and Fortnum & Mason's Platinum Pudding competition, which will now become part of royal food tradition, is an indulgent lemon Swiss roll and amaretti trifle.
U.K. discount grocery store Iceland has now released a recipe of an equally special version—with this take needing just nine ingredients. It will take a mere 1 hour and 10 mins to make and cost little over a $12 to make (or $20 if home bakers would like to add alcohol to their trifle).
Prep time – 1 hour, 10 minutes
Assembly time – 15 minutes
Serves 6-8 people
Ingredients:
2 300g tins of Del Monte Mandarin Segments in Juice, drained
4 pots of Hartleys Orange Jelly
Juice of 1 lemon, using Iceland Lemons
300ml Iceland British Fresh Double Cream
2 tbsp Gale's Lemon Curd
1 pack Bakery Delights Cake Almond Fingers
Hoopers Farmhouse Bakeries Jumbo Raspberry Swiss Roll
1 White Chocolate 2 finger Kit Kat bars
1 carton of Ambrosia Devon Custard
For the alcoholic option: 1 Bottle of Veroni Amaretto Original
Method:
Empty the jelly pots into a saucepan and add the juice of 1 lemon. Gently melt the jelly over a medium heat until smooth and set aside to cool.
Slice the Jumbo Swiss roll into 2.5cm slices and place upright around the bottom edge of the trifle dish, so the swirl is visible. Use the remaining Swiss roll to fill in the middle and any gaps, ensuring that it is level with the slices that line the edge.
Once the jelly is cool, pour it over the Swiss roll and place in the fridge for an hour to set.
Slice 5 of the almond fingers in half lengthways and place on top of the jelly.
Pour the custard over the almond sponge ensuring a nice, even layer.
Scatter the drained mandarin segments around the edges of the trifle dish, set 10 aside for decoration and place the remaining evenly around the dish.
Lightly wipe the cream to soft peaks and then fold in the lemon curd. Place in a piping bag and decorate or simply smooth over to create a nice even layer.
Crumble over the remaining 2 almond biscuits, scatter the mandarin segments and chop four of the Kit Kat bars into triangular shards to finish the decoration.
4. Earl Grey and Maple Cupcakes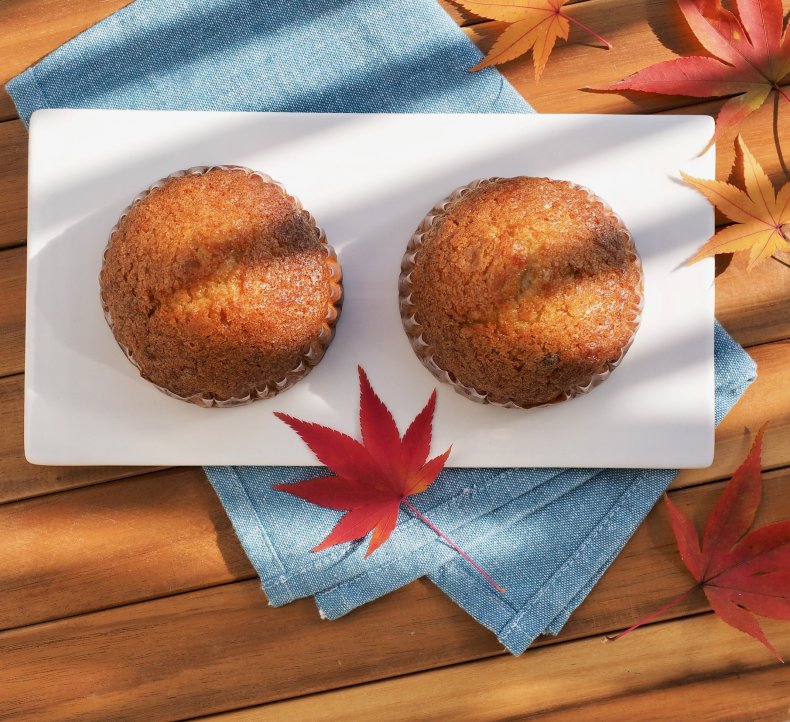 To celebrate 70 years on the throne, Maple from Canada UK's development chef, Olivier Briault, created a two-tier, seven-layer cake for the monarch's Platinum Jubilee celebrations.
The cake is a twist on a traditional Victoria sponge, with seven layers and seven different flavors to represent each decade on the throne—from dark maple syrup, vanilla cream, Earl Grey tea buttercream to white chocolate, maple caramel, dark chocolate and lemon curd.
Prep time: 35 minutes
Cooking time: 20-25 minutes
Portions: 12
Ingredients:
6 tbsp whole milk
2 Earl Grey tea bags
250g unsalted butter
250g maple sugar
4 eggs
230g self-raising flour
1 tbsp maple syrup—preferably amber syrup for its rich taste
Method:
Preheat the oven to 180°C.
Bring the milk to a simmer, then take off the heat and add the tea bags. Allow to infuse for 10 minutes.
Line a 12-hole cupcake tin with paper cases.
Put the unsalted butter and maple sugar in a large mixing bowl and beat with an electric whisk for 2-3 mins (or by hand with a wooden spoon for longer) until pale and fluffy.
Add the eggs one at a time, beating well after each addition.
Add the maple syrup and beat briefly to combine. Gently fold in the flour and the infused milk, which will have cooled slightly by now.
Divide the batter between the cases, then bake for 20-25 mins or until a skewer inserted into the middle comes out clean.
Transfer the cakes to a wire rack and leave to cool completely.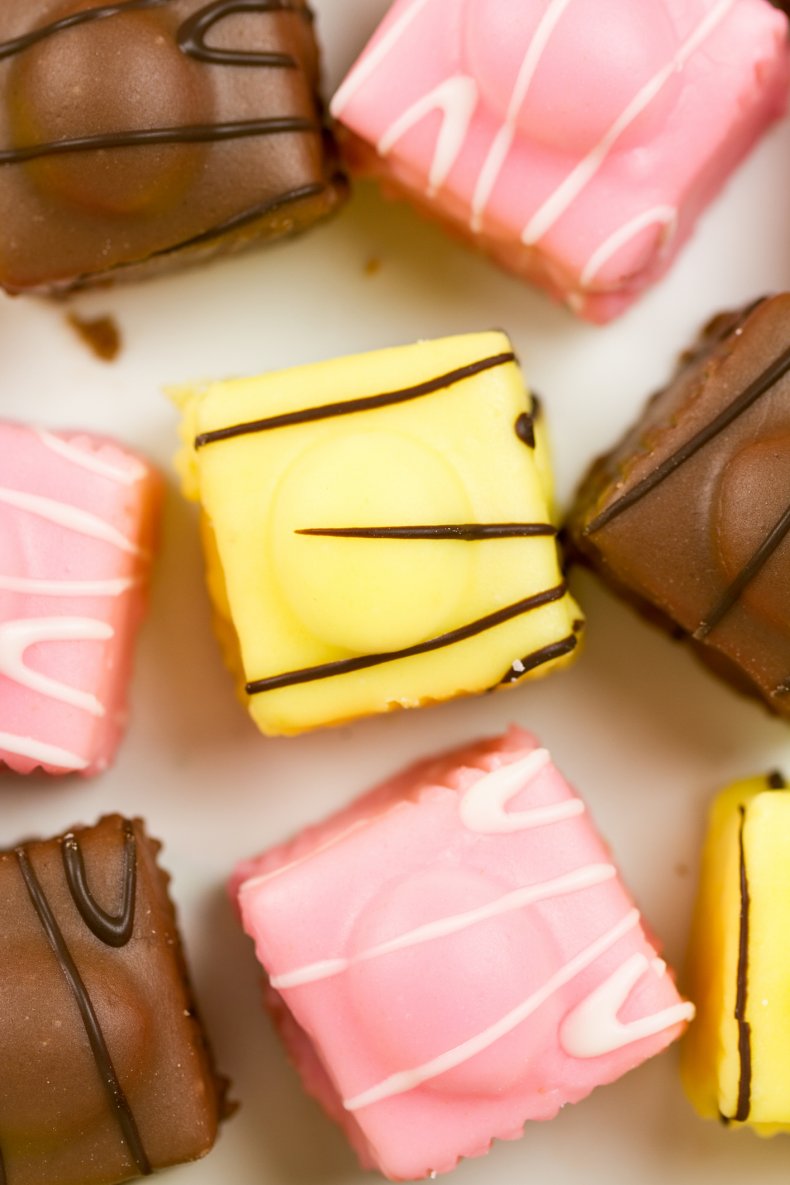 5. Raspberry Fondant Fancies
Decorated in the colors of the Union Jack, these look as good as they taste.
Makes 25
Prep time: 1 hour (plus freezing time)
Cook time: 30 minutes
For the sponge:
175g softened butter or margarine
3 eggs, beaten
175g self-raising flour, 2 tsp reserved
1 tsp finely grated lemon zest
150g raspberries
To decorate:
150g marzipan
400g ready-made vanilla or lemon butter cream at room temperature
1kg fondant icing
Red and blue food coloring
50g milk chocolate, melted
Method:
1. Preheat the oven to 180C/160C/gas mark 4. Line a 20cm square cake tin with parchment. For the sponge, put all the sponge ingredients except the raspberries and reserved flour in a mixer and beat until well combined.
Toss the raspberries in the reserved flour and fold into the mix. Spoon the sponge mix into the tin and bake for around 30 minutes until golden, springy and just pulling away from the edges. Place on a wire rack to cool, then remove the cake paper and freeze for 20 minutes.
2. Thinly roll out the marzipan. Remove the cake from the freezer and spread over a thin layer of buttercream. Top with the marzipan trimming away any overhang.
Cut the cake into 25 even pieces. Spread four sides of each cube with buttercream and pipe a small blob on top, then return to the freezer for at least 10 minutes.
3. Chop the fondant into pieces and place in a food mixer. Starting it gently beat until it breaks down, adding 150ml water in small amounts of until you get an almost pouring consistency.
Divide into 3 different bowls. Leave one white, add red coloring to one and blue to another, mixing to the desired shade. Spear the base of the cube with a fork and dip it into the icing removing, lift it up twisting as you go to cover the whole cube and transfer to a wire rack to set.
Repeat to create a mix of red, white and blue fondant fancies.
4. Once softly set, drizzle all the cakes with milk chocolate. Its easiest to do this with a piping bag and leave to set for a few minutes before serving.
Store in an airtight container for up to two days.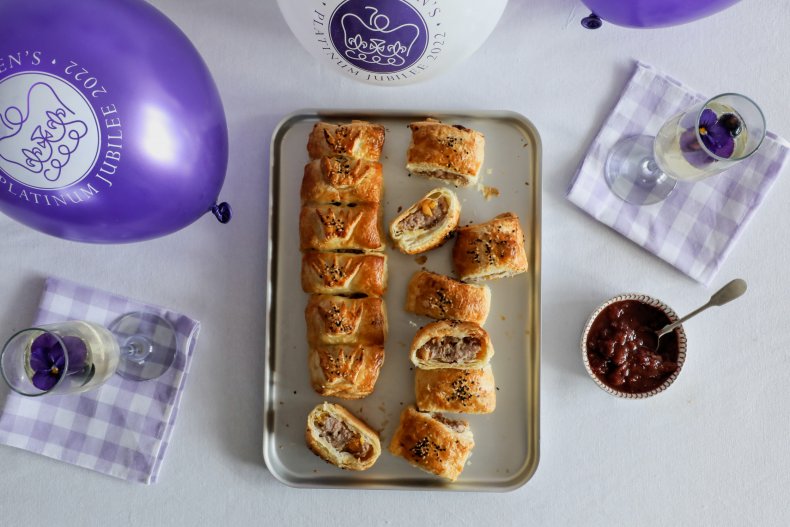 6. Chilli & Apricot Sausage Roll
British manufacturer of cookware and bakeware Samuel Groves describes this delicious recipe as "essential for a party or banquet fit for the Queen."
Ingredients:
500g sausage meat
100g dried apricots, chopped
1 sheet of just roll puff pastry
1 egg yolk
1tbs dried chilli flakes, or 1 fresh chill chopped
1tsp nigella seeds
1tsp sesame seeds
Half cup finally chopped flat leaf parsley
Salt & pepper to taste
Method:
1. In a large bowl, use a fork to combine the sausage meat, chopped apricots, chilli flakes, salt, pepper and chopped fresh parsley.
2. Cut your pastry sheet in half and brush the sides of the pastry edges with a little egg yolk.
3. Place half the sausage mix on one side of the pastry and roll to enclose the filling.
4. Repeat with the other piece of pastry and remaining sausage meat.
5. Using a sharp knife, cut each pastry roll into smaller sausage rolls (each around 3.5cm thick)
6. Preheat the oven to 220°c, 425°F.
7. Line your Samuel Groves baking tray with greaseproof paper.
8. Place your sausage rolls onto the baking paper. Egg wash the tops and sides, sprinkle with sesame seeds and nigella seeds.
9. Bake for around 45 minutes, until golden.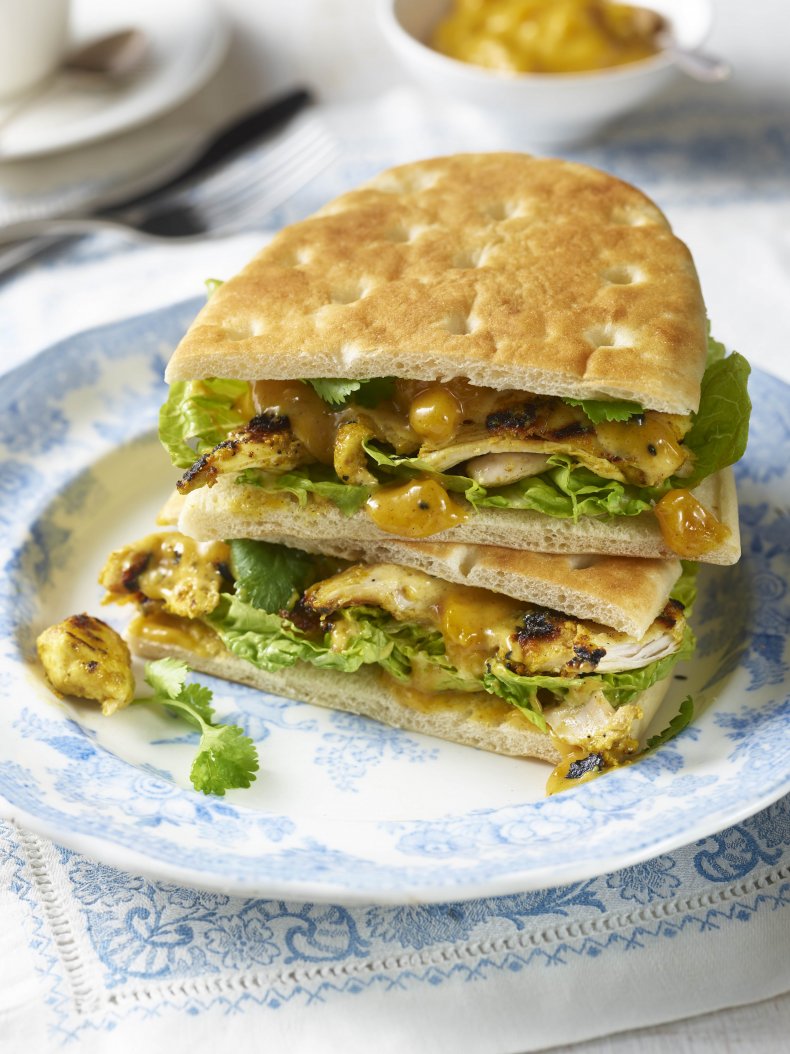 7. Sliced Focaccia Coronation Chicken
For those who do eat meat, why not try these some delicious coronation chicken in a sliced focaccia by Deli Kitchen.
Originally created in 1953 for the queen's coronation, the popular dish was believed to be inspired by jubilee chicken created for George V's Silver Jubilee in 1935.
Serves: 2
Preparation time: 20 minutes (plus marinating time)
Ingredients:
200g full-fat Greek yoghurt
2 garlic cloves, crushed
2 tbsp + 2 tsp mild curry powder
1 tsp ground cumin
1 tsp ground coriander
4 boneless, skinless chicken thighs
4 tbsp mayonnaise
1 1/2 tbsp mango chutney
4 dried apricots, finely chopped
2 Deli Kitchen Sliced Focaccia
1 small gem lettuce, shredded
A small handful coriander, roughly chopped
Method:
Mix together the yoghurt, garlic, 2 tbsp curry powder, cumin and coriander in a small bowl. Place the chicken thighs in a large zip-lock bag, add the yoghurt mix, seal the bag and shake well to fully coat the chicken.
Place the chicken in the refrigerator and leave to marinate for at least 2 hours (ideally overnight).
Remove the chicken from the refrigerator about 1 hour before cooking.
Make the coronation mayonnaise by combining the mayonnaise, mango chutney, remaining 2 tsp curry powder, dried apricots and a little seasoning in a small bowl.
Heat your BBQ or griddle to medium-high and cook the chicken for around 5-7 minutes per side, until lightly charred and cooked through. Remove from the gill and leave to cool for 10 minutes, then shred the chicken.
Lightly toast the Deli Kitchen sliced focaccia and place the shredded lettuce on the bottom of each half.
Add the shredded chicken, then dollop the coronation mayonnaise on top. Finally add the coriander, top with the top half of the focaccia and enjoy.
These sandwiches keep well and would make a great picnic sandwich. Keep chilled and wrapped in parchment paper until consuming.