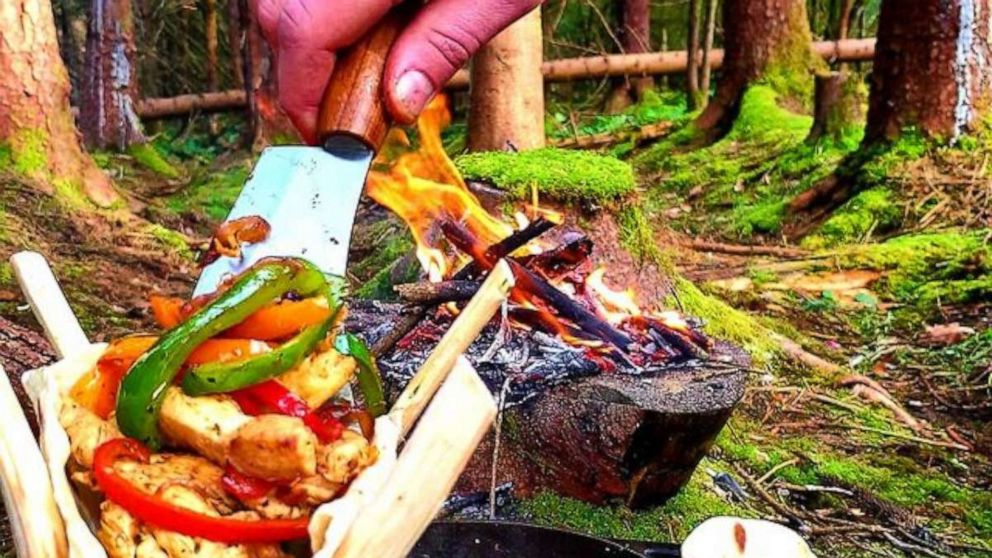 Meet the ASMR food creators who smash garlic in stunning outdoor culinary videos
The crackling of a wood-burning fire, the fluid and rhythmic sound of a steel knife slicing through raw vegetables on a solid wooden board, the sizzle the instant salmon hits a searing hot pan — these are just a taste of the stunning audio sensory-infused outdoor cooking videos that have garnered millions of views and followers for the Men With The Pot.
What started as a fun and challenging outdoor activity nearly two years ago for two Polish friends living in Northern Ireland, Slawek Kalkraut and Krzysiek Szymanski, has blossomed into a global, cult-favorite food franchise on social media where they brave the elements to create mouthwatering meals.
"When you prepare your food at home you never focus on the sound of chopping garlic or a carrot or whatever it is. And we are showing that in a way that you can't miss it," Kalkraut told "Good Morning America." "It's beautiful."
Szymanski added that unlike cooking in a home with music or radio playing, friends or family running around and creating ambient noise, "When you are surrounded by nature it's quiet. There's nothing else — you can be more focused on the cooking."
"We got this silly idea to cook in nature and people just got hooked on it," Kalkrut said, with the caveat that "none of us are a chef."
Bringing their cooking outside was the perfect way to do just that with ASMR (autonomous sensory meridian response) videos that hit all the right notes for food fans.
"One day we were sitting in a car after posting a video and we had just slightly less than 5K on Instagram, dreaming about creators with 17K — some two weeks later we reached it. Everything started to grow like mad," Szymanski said.
Food ASMR videos have garnered over 2.4 billion views on TikTok alone, with more accounts dedicated to the trend popping up both there and on Instagram. The sounds like scraping soft butter on crispy toasted bread thrive in the space of quick-cut videos with natural sound pops of ingredients being prepped that can give viewers a tingly sensation in response.
From searing a steak, grilling burgers, and boiling a pot of pasta, to baking calzones with homemade pizza dough, the men have captured a variety of cooking techniques that produce pristine sound.
"I personally love baking over fire because it's so unusual," Kalkraut said. "We could go for simple recipes, but they wouldn't attract as many people — as soon as someone sees baking over a fire in the middle of nowhere beside a lake they are already hooked."
He continued: "You see the dough growing, double in size and then we bake it and it gets this lovely color and crust."
"There's something magical in our opinion, because when you see Cooking Channel some 85% of them are in the kitchen and you have to listen to someone else — it's not necessarily about food," Szymanski explained. "It's not necessarily about faces — it's about nature and and food, that's all that matters."
Aside from other food creators on social media, these two are also up against Mother Nature. "There are 300 wet days a year here in Northern Ireland," Szymanski said.
"It could be six hours or up to nine hours trying to shoot something," Kalkraut added. "It all depends on the weather. And it's so unpleasant to work in the rain and wind with fire and trying to bake."
The otherwise stunning setting where the men make the magic happen looks like something out of a fairy tale with dewey moss-covered trees, babbling creeks and their large wood fire with a pot and cookware.
"We are fortunate to get to use it without breaking any laws," Kalkraut said, adding that they film on a piece of land owned by a good friend who allows them to cook there. "To get there you have to use a 4 by 4 [SUV.]"
The crystal-clear videos for each gourmet recipe are surprisingly not captured using fancy high-end camera equipment. "We use a cellphone" Kalkraut said, and that their Samsung Galaxy S21 Ultra allows them to shoot high-quality 4K resoution on a device that can easily trek the terrain without the hassel of carrying 50-pounds of gear.
The pair have seen huge interest thanks to TikTok and launched their own line of products: a knife and cutting board.
"We are even more busy than when we started — we want to grow the brand now," Kalkraut said.
Next, Szymanski said their No. 1 goal is to travel to Norway to shoot more cooking videos.
The Men with the Pot also signed on to write their debut cookbook next year and eventually hope to create an experiential getaway in Europe for people to come cook, stay and visit.