During my restaurant days, Italian Wedding Soup was a mainstay on my menus. Loaded with fresh vegetables, little homemade meatballs, and escarole in a rich flavorful chicken broth is perfect for any occasion.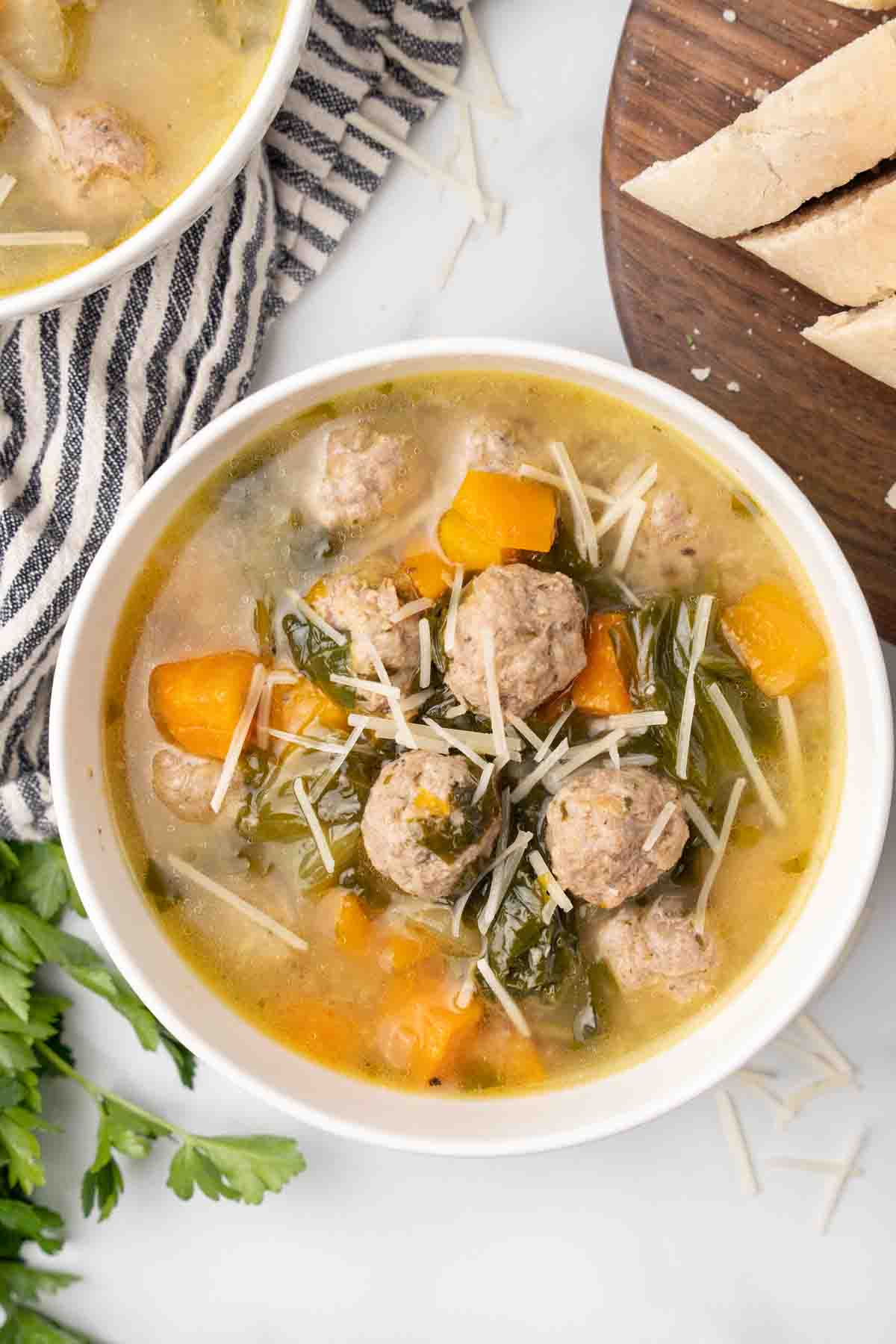 Did you know Italian Wedding Soup did not get its name from being served at Italian weddings? True Story, the term "wedding" comes from the Italian phrase "minestra maritata" and refers to the marriage of ingredients in the soup, creating an amazingly flavorful soup!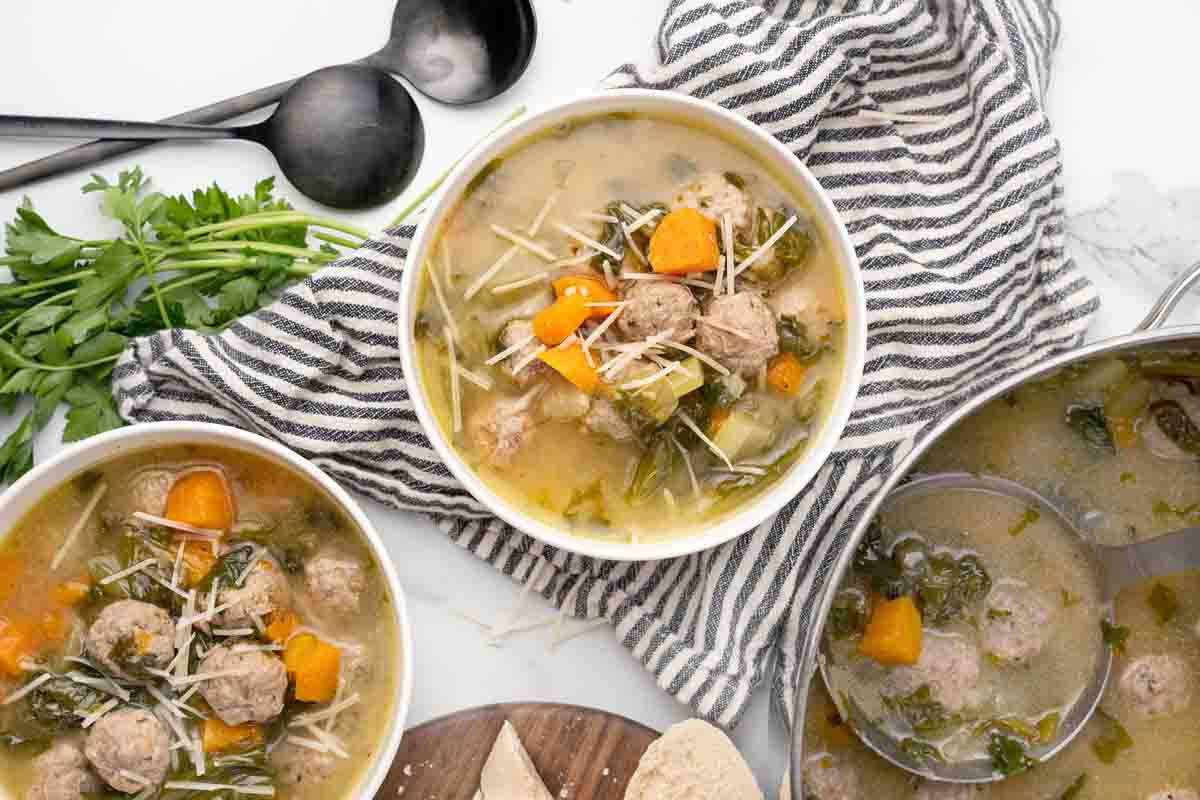 The origins of the soup can be traced back to the Neapolitan region of Italy. Of course, you'll find many local variations in the different regions of Italy. Using simple ingredients, Italian Wedding Soup is the perfect example of la Cucina Povera, the no-waste "poor cooking" tradition from rural Italy.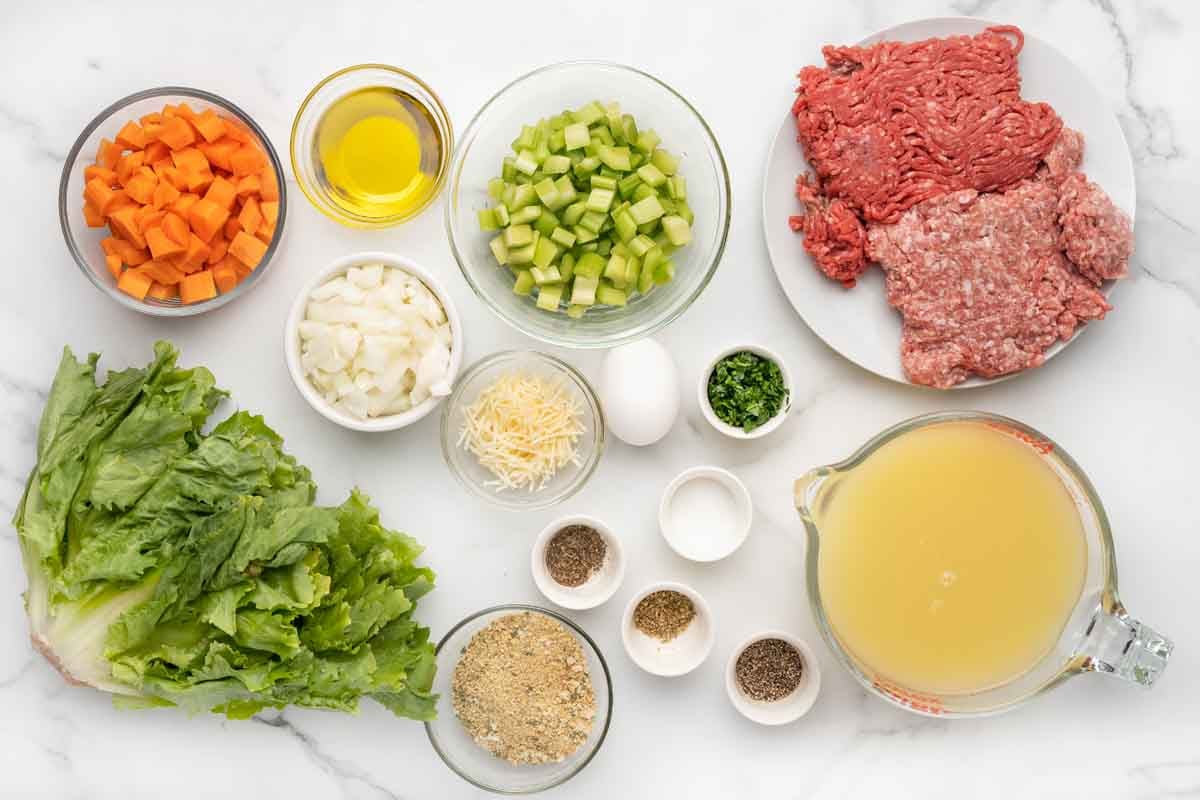 Let's start by gathering the ingredients we need to make Baked Chicken Drumsticks. In Chef Speak, this is called the "Mise en Place" which translates to "Everything in its Place."
Not only does setting up your ingredients ahead of time speed up the cooking process, it also helps ensure you have everything you need to make the dish.
Simple Pantry Ingredients
celery
carrots
onions
olive oil
escarole
ground beef
ground pork
bread crumbs
chicken stock
parmesan cheese
How to make mini meatballs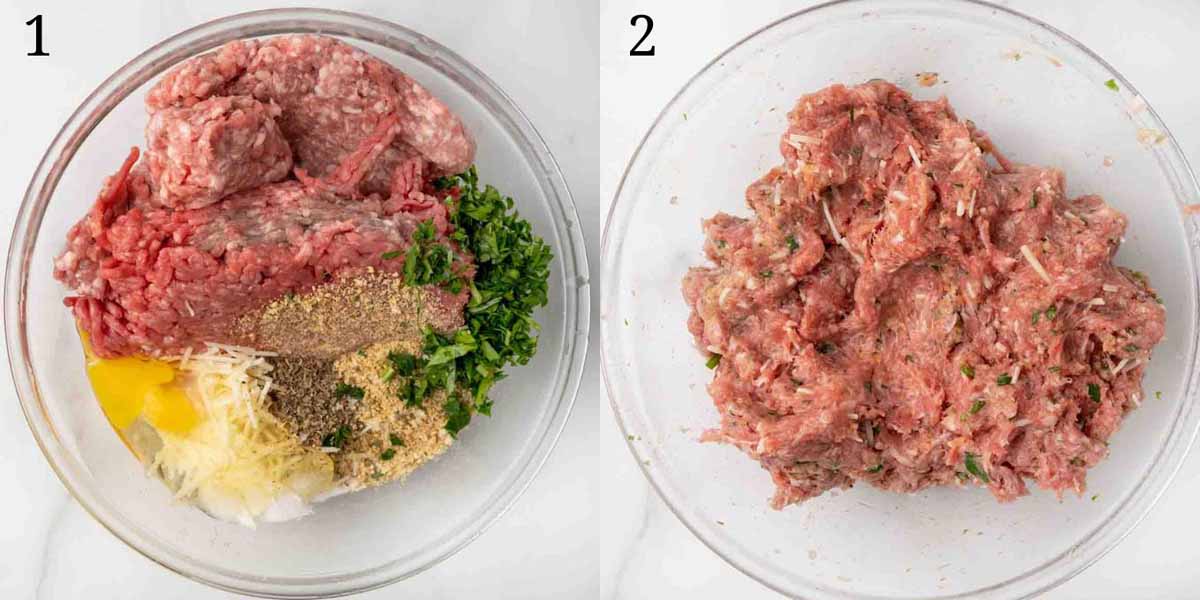 add the ground beef, ground pork, egg, bread crumbs, Romano or parmesan cheese, and seasonings to a large bowl.
and mix just enough to incorporate all the ingredients. Be careful not to overmix.
Alternative meatball ingredients
Meatballs can be made out of all beef or all pork.
Ground sausage can be used instead of ground pork.
You can also use ground chicken or ground turkey to make the mini meatballs.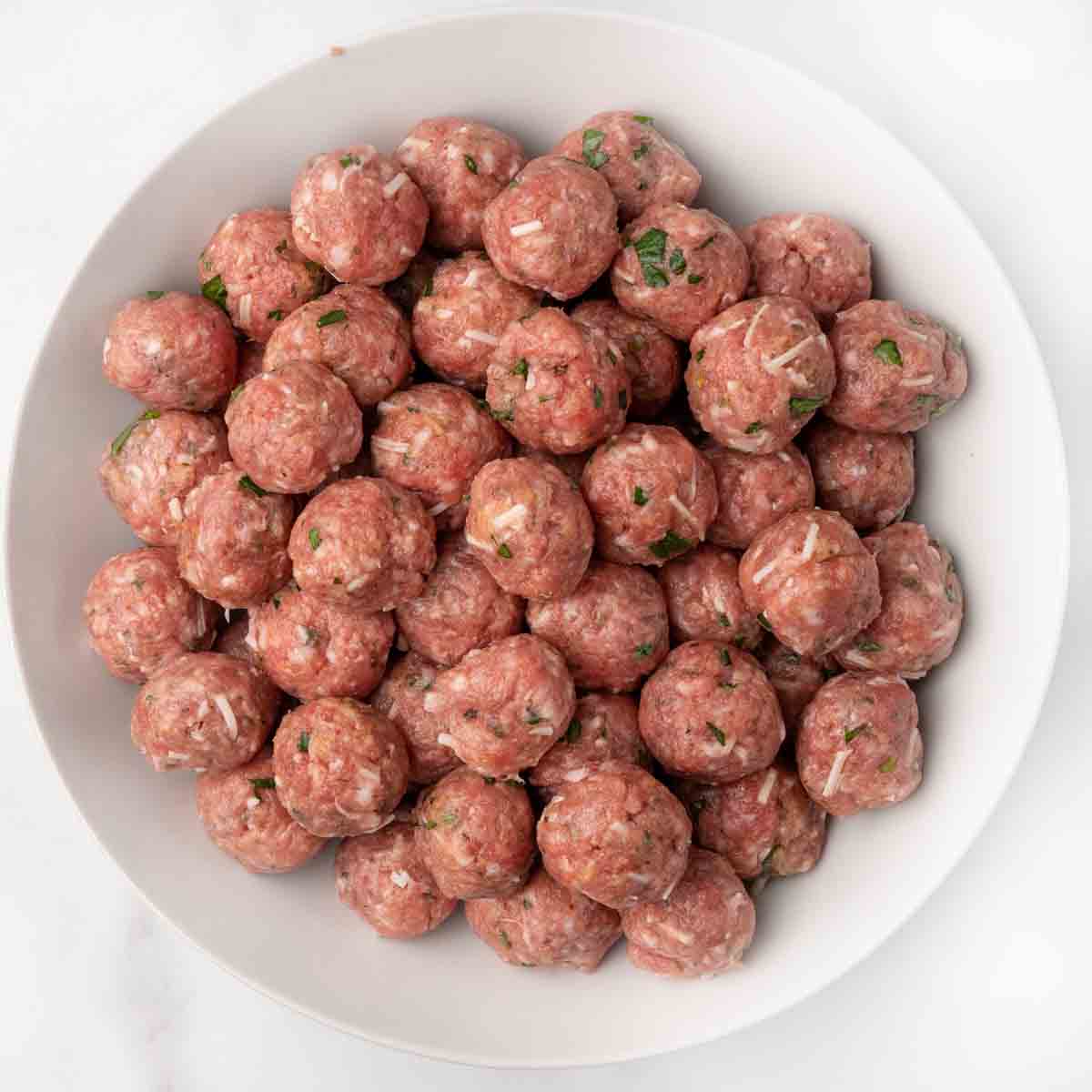 Form the meat mixture into marble size meatballs. Refrigerate until needed.
*These meatballs can be made ahead of time and frozen. To freeze, place the meatballs in a single layer on a parchment-lined baking sheet and freeze until solid. When frozen, place the meatballs in a ziplock bag and keep them frozen.
How to make Italian Wedding Soup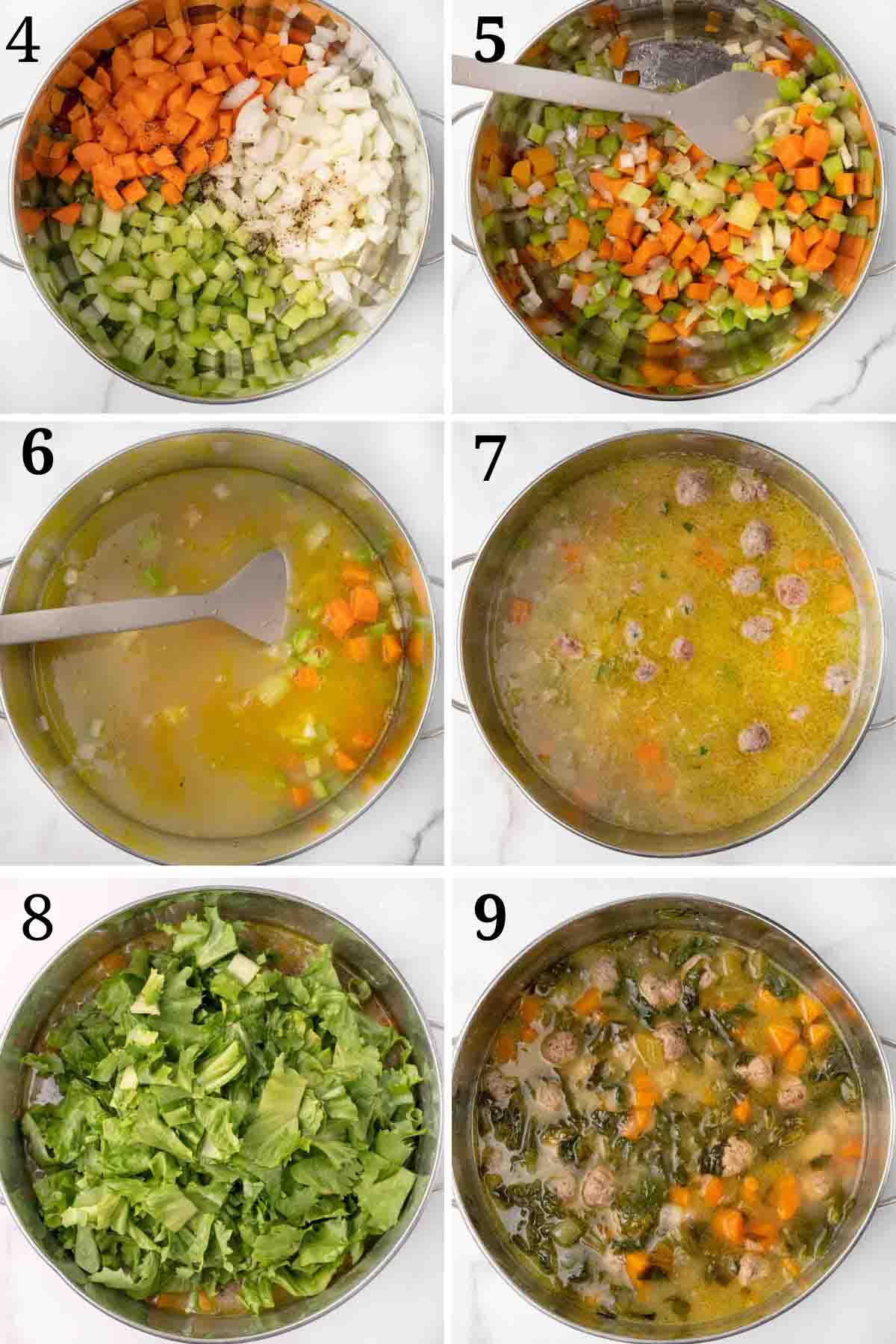 Add celery, carrots and onions to a large pot with a little olive oil over medium heat.
Let the veggies cook for 5-6 minutes.
Add the chicken broth to the pot and increase the heat to medium-high. Bring to a light boil.
Add the meatballs to the soup and continue cooking for 5-7 minutes to cook the meatballs.
Add the chopped escarole to the soup (baby spinach or your favorite leafy green can be used instead of escarole)
Reduce the heat to simmer and continue to cook the soup.
Can I add pasta to the soup?
Italian Wedding Soup does not traditionally have pasta in the soup, but pasta is a great addition to this classic Italian soup. I like to add tortellini to my wedding soup; there are so many great options in the refrigerated section of your grocery store. Acini de pepe, or one of the mini varieties of pasta, are also great choices.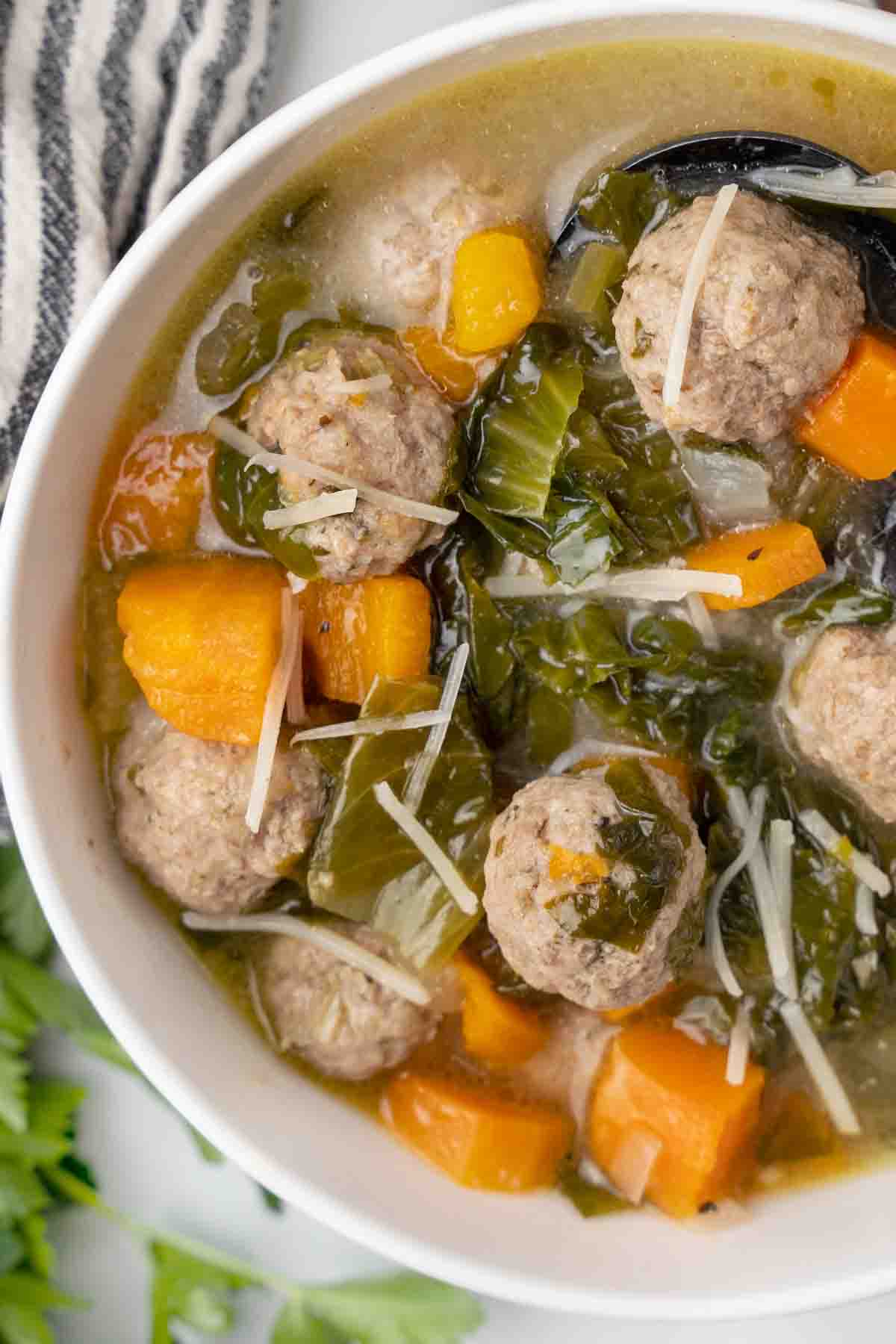 Whether you serve this for dinner, lunch or you're next party; everyone is going to love the simplicity and flavors of Italian Wedding Soup. Just don't forget to have plenty of crusty bread, European butter and grated cheese on hand. Add a salad, and you just made dinner a special occasion.
Recipe FAQ's
What are the ingredients for Italian Wedding Soup?
A mixture of ground beef and ground pork (or sausage) are used to make the meatballs for the soup. Add Italian seasonings, bread crumbs, parmesan cheese and an egg to make the meatball mixture.
The soup is made of a mirepoix (celery, onions, carrots), escarole, and chicken broth.
What is Italian wedding soup called in Italy?
The classical Neapolitan soup we know as Italian Wedding soup is called minestra maritata, in Italy. This translates to "married soup", not wedding soup, and refers to the marriage of the flavors.
Can I make chicken meatballs for this soup?
You can use ground chicken or ground turkey for the meatball mixture. Both turn out really well and are good substitutes.
More Soup Recipes You'll Love!