Illini West teacher loves introducing students to "home cooking" recipes | Lifestyles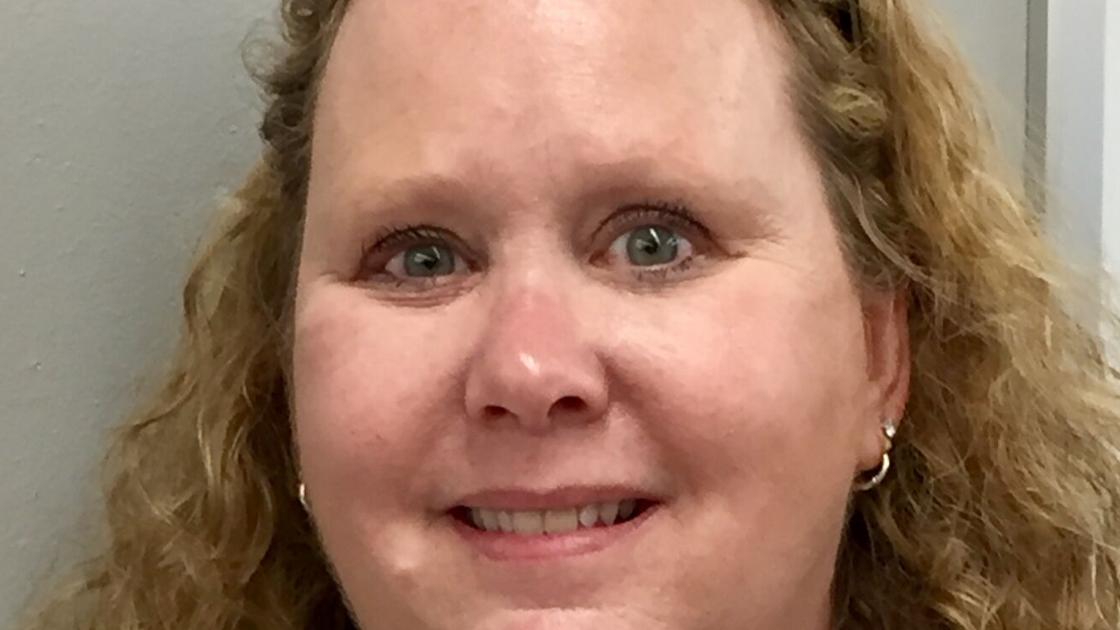 CARTHAGE, Ill. — Nancy Barnett spent her childhood learning the ins and outs of cooking and sewing from her mom, home economics classes and 4-H.
Now she's passing those lessons along to students enrolled in family and consumer science classes at Illini West High School.
"I love what I do," said Barnett, who lives in Good Hope and has taught for 30 years, the last five at Illini West.
Cooking units focus on "home cooking" including recipes like Lasagna and Tater Tot Casserole that Barnett might serve to her husband Steve and their sons Philip, Jacob and Zach.
But her personal preference is baking, not cooking.
"I like to do cookies, cakes and breads," she said. "My favorite to eat is probably the Cinnamon Rolls. Who doesn't love a good homemade cinnamon roll? But cinnamon rolls are time-consuming to make. They're not my favorite to make."
Among her favorite to bake is Pumpkin Bread, but this year's students opted to bake Banana Bread — just like so many other people during the COVID-19 pandemic.
"This year has been a totally different challenge with keeping labs mainly single serving. I've taken every recipe and had to adjust it," Barnett said.
Even with an adjustment in scale, the students still loved Magic Marshmallow Puffs. "It's like a cinnamon roll, but it's fast and easy," Barnett said. "And it's science because the marshmallow is magic and disappears."
Classes start with lessons in sanitation and safety followed by the math and science of cooking. "They learn to double and divide recipes, budgeting and looking at recipe cost," she said.
Students also learn when — and when not — to follow the recipe.
"With casseroles, stir fries, we can be a little creative. We can interchange ingredients," she said. "With baking, you have to be exact."
Wanting to make appealing meals is a key ingredient in cooking, but so is a willingness to take some risks in the kitchen.
"We need to learn to step out of the box and be creative," Barnett said. "You also have got to have time (to cook), so we do 30-minute meals."
Building basic skills from homemade Pizza Dough to Chocolate Chip Cookies is important for students heading into their future.
"It's preparing kids for the future, learning to take care of themselves and other people or family," she said. "The better we can make it homemade, the less preservatives, the better we are — and it is the least expensive way to make the food."
¾ cup cottage cheese or ricotta cheese
2 tablespoons Parmesan cheese
6 lasagna noodles, uncooked
Brown hamburger in skillet; drain. Add 1 cup spaghetti sauce to hamburger, and stir well.
Combine 1 cup mozzarella cheese, egg, cottage cheese (or ricotta cheese), Parmesan and oregano.
Lightly grease an 8×8-inch baking pan. Spread ½ cup spaghetti sauce on the bottom of the pan. Place 3 uncooked noodles on bottom of pan. Top with half of the meat mixture and half of the cheese mixture. Repeat. Be sure to cover all the noodles. Pour water around the edges of the pan.
Cover with foil, and bake at 350 degrees for 55 minutes. Uncover and sprinkle with remaining 1 cup mozzarella cheese. Bake for another 5 to 10 minutes. Let stand 10 minutes before cutting.
1 can cream of mushroom soup
1 can cream of celery soup
2 cups shredded cheddar cheese
Brown hamburger; drain. Stir together both soups and cheese. Coat a 9×13-inch baking pan with nonstick cooking spray. Cover bottom of pan with tater tots. Spread the cooked hamburger over the tater tots. Top with soup/cheese mixture. Bake at 350 degrees for 40 to 45 minutes.
½ cup margarine, softened
½ cup chopped pecans or walnuts, optional
Mash bananas. Mix together all ingredients, except nuts. Stir in nuts. Pour into a greased loaf pan. Bake at 350 degrees for 45 to 55 minutes. (Bake mini loaf pans for 24 to 30 minutes.)
¾ cup butter flavor Crisco
1 cup semisweet chocolate chips
Mix Crisco, brown sugar, milk and vanilla until well combined. Beat in egg. Slowly mix in flour, salt and baking soda until well blended. Stir in chocolate chips. Drop by teasponfuls (or with a cookie scoop) onto a cookie sheet. Bake at 375 degrees for 8 to 10 minutes. Cookies will appear moist, but do not over bake. Cool at least two minutes before removing cookies from cookie sheet onto a cooling rack.
7 to 8 cups flour, divided
4 tablespoons butter, softened
3 to 6 tablespoons hot water
For dough, dissolve yeast, sugar and warm water in a small bowl; let rest for 10 minutes. Heat milk, butter, sugar and oil until warm. Pour yeast mixture and milk mixture over 7 cups of flour. Add the eggs and salt, and mix until smooth. Add more flour as needed to form a ball and not be too sticky.
Knead dough for 5 to 10 minutes, either with mixer and dough hook or on a lightly floured surface by hand. Place dough in a well-greased bowl, cover and let rise until doubled, 1 to 1 ½ hours. Once doubled, punch down dough. Divide in half, and form into a smooth ball. Roll out one half on a floured surface into a large, thin rectangle.
For filling, spread half of the melted butter all over dough. Combine brown sugar and cinnamon together, and sprinkle half of the mixture over buttered dough. Beginning on a long side, roll dough tightly, and pinch the edges together to seal. Cut into 20 to 24 even slices. Coat the bottom of a 9×13-inch baking pan with nonstick cooking spray. Sprinkle with sugar and cinnamon if desired. Places rolls in pan close together. Allow to rise 30 minutes.
Repeat rolling, filling and slicing steps with other portion of dough. Allow to rise.
Bake at 350 degrees for 22 to 24 minutes. Do not over bake. Combine glaze ingredients, and drizzle over rolls.
Combine sugar and cinnamon. Melted butter in microwave. Place each crescent roll out flat. Tear or cut each marshmallow in half. Dip each marshmallow half in butter, then in cinnamon-sugar mixture. Place each one on top of each crescent roll. Pinch edges of crescent roll together to seal marshmallow inside. Dip sealed edges in remaining melted butter, and place seam side down in muffin tin. Bake at 375 degrees for 10 to 15 minutes.
While baking, combine together icing ingredients. Drizzle icing over warm rolls after removing them from the muffin tin.
NOTE: Puffs can be baked directly in the muffin tins, or line tins with cupcake liners for easier cleanup.
In a large bowl, combine flour, cinnamon, salt and baking soda. Using the mixer, combine eggs, sugar, pumpkin and oil. Stir pumpkin mixture into the dry ingredients just until moistened. Fold in chocolate chips. Pour into greased loaf mini pans. Bake at 350 degrees for 24 to 30 minutes. Cool 10 minutes before removing from pans.
2 tablespoons oil (olive oil is best for flavor, but vegetable oil may be used)
1 tablespoon cornmeal, optional
In a large bowl, combine 2 cups flour, yeast, salt and sugar. Stir in oil and warm water. Stir in enough remaining flour to make a soft dough. Knead dough until smooth, 4 to 6 minutes, adding a little more flour if needed.
Place in a greased bowl, and turn dough so that all sides are covered with oil. Cover, and let rise in a warm place.
Lightly grease the pizza pan. Sprinkle pan with cornmeal. Press dough to fit pizza pan. Prick dough with a fork, and bake for 4 minutes at 400 degrees. Remove from oven. Add sauce, toppings and cheese. Bake for 18 to 20 minutes, depending on size and thickness of crust and toppings.