My grandma's BEST easy meatloaf recipe with oats mixed with ground beef, powdered milk, and a sweet glaze makes a juicy meatloaf every time.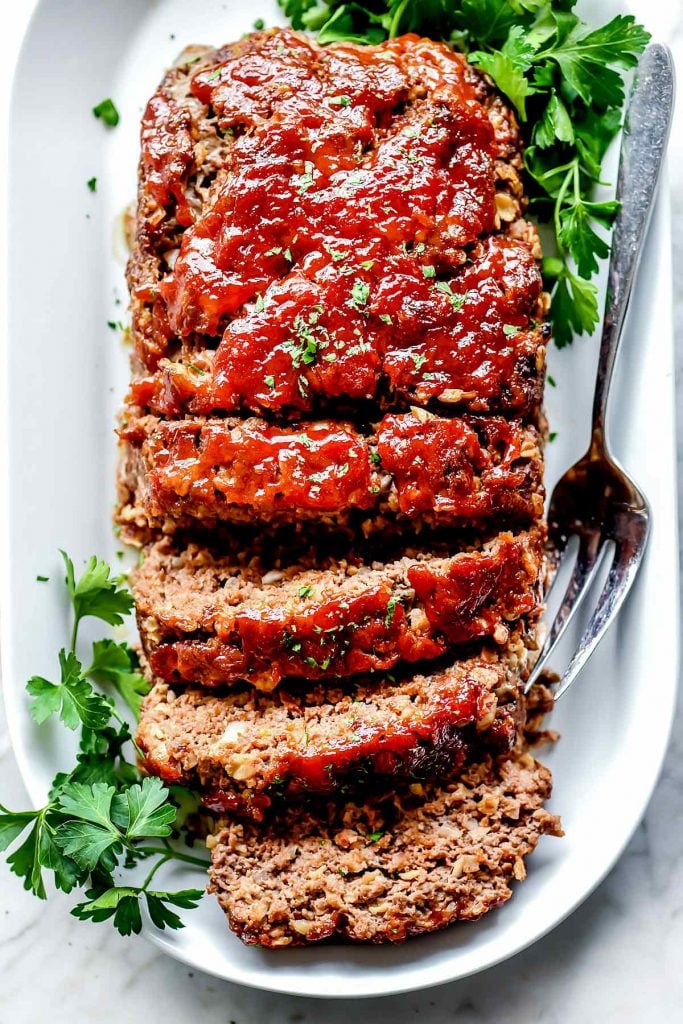 Classic meatloaf is one of those recipes that people have strong opinions about. I've shared a healthier meatloaf made with ground turkey here on the blog, and yes indeed, it is GOOD, especially alongside my favorite creamy mashed potatoes and some green beans with browned butter almondine! But for those times when I'm not feeling quite so virtuous, or don't have a lot of time or ambition, my grandma's easy meatloaf recipe is the one. Meatloaf sometimes has a sad reputation for being dry, flavorless, or looking like a slab of processed meat before even trying it. Friends, this is not that recipe.
My grandma's meatloaf is a true mix-and-dump recipe, with no sautéing or cooking needed before mixing, molding, glazing, and baking. It's just ground beef with a few aromatics and a super simple tangy glaze—plus two surprise ingredients that keep it moist and juicy for the best meatloaf every single time. It's like getting a hug from the inside, with a sweet, sloppy, tangy, glazed kiss to go with it.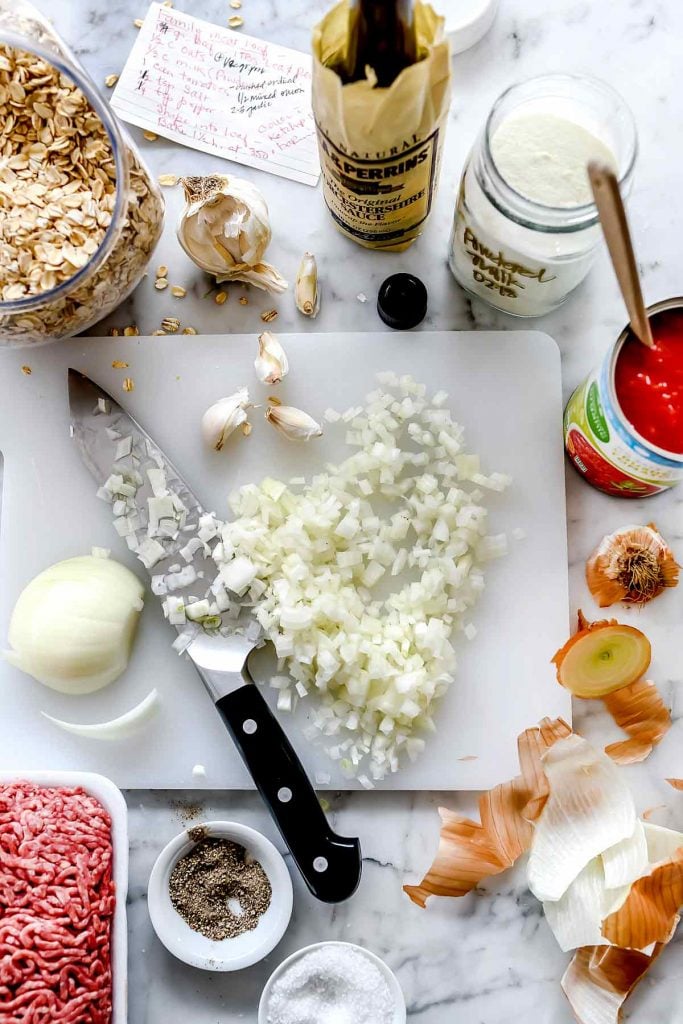 What is The Secret to Moist Meatloaf
This easy meatloaf has two secret ingredients that make it moist, juicy, and even with minimal ingredients, exactly the right flavor one imagines of not just a good traditional meatloaf, but a GREAT one.
What's my grandma's secret to keeping meatloaf moist? Old-fashioned oats, powdered milk, and crushed tomatoes.
Ground beef. Use 85% lean ground beef in this recipe. Extra-lean ground beef makes a dry meatloaf, where the additional fat in 85% lean ground beef helps keeps the meatloaf juicy. You could use a mix of ground beef and ground pork, but I love using all beef here.
Old-fashioned oats. In this meatloaf recipe, oats are used instead of fresh bread or bread crumbs, adding moisture while making the ground beef mixture less dense. Oats also make this meatloaf gluten-free. Thinner-cut quick oats can be substituted for old-fashioned oats.
Powdered milk. In meatloaf and meatballs, regular milk is absorbed into fresh bread to soften it and add moisture when combined with ground beef. Since we're skipping the bread in this meatloaf recipe, adding regular milk would make the meat mixture too watery and pasty. Instead, powdered milk adds the fat and moisture of regular milk, without the wetness.
Yellow onion. Finely chop, mince, or even grate the onion to best incorporate it into the meat mixture. Onion not only adds flavor but releases moisture into the meat as it cooks too.
Garlic. Besides 2-3 cloves of fat and juicy garlic, there aren't any herbs in this recipe. Mince, grate or press the garlic so it incorporates well.
Crushed tomatoes. Choose a good brand of canned, crushed tomatoes, or better yet, whole tomatoes you crush finely yourself. Tomatoes add flavor, and once again, moisture to the meatloaf.
Worcestershire sauce. Uniquely savory and tangy, Worcestershire sauce adds depth and a vibrant tang to this dish.
Kosher salt and freshly ground black pepper. 
A meatloaf glaze of ketchup, brown sugar, and vinegar. Sweet, tangy, and caramelized, the glaze is often the eater's favorite part of this dish.
Parsley, always for garnish and a bright bit of freshness.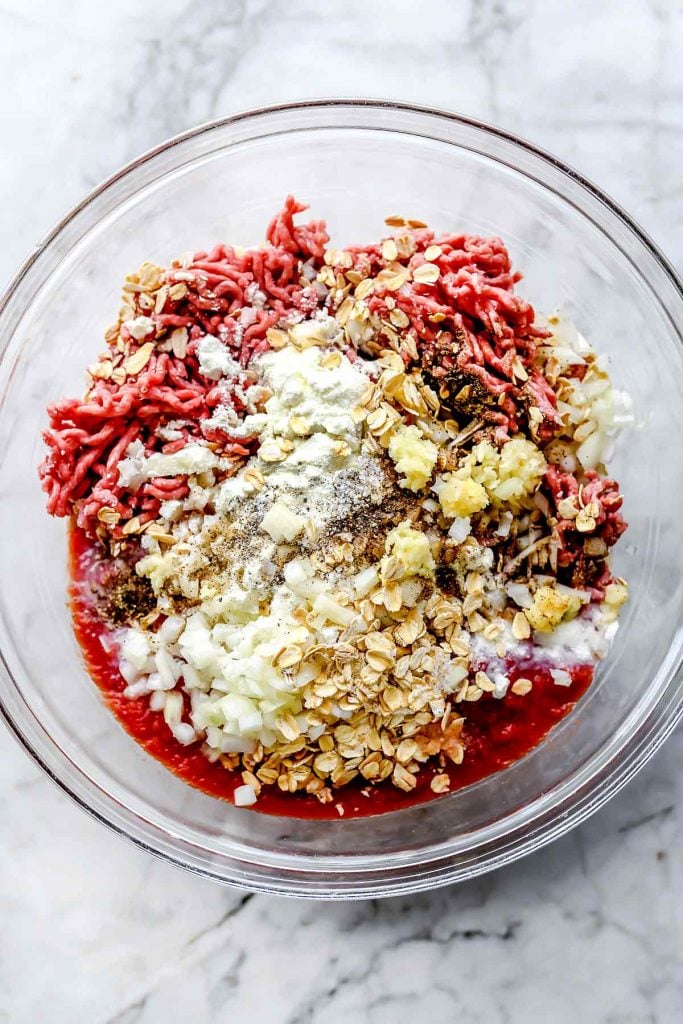 How to Make the Best Easy Meatloaf
There literally isn't much to this recipe. Like, it's seriously easy for any level of cook and makes you look like a classic culinary whiz each and every time you make it.
Mince the onion and garlic. Because the onion and garlic are used raw in this recipe, chop, mince, or even grate them finely so they easily incorporate into the mixture, and cook evenly with the beef. Personally, I like tasting the bits of onion in my meatloaf, so I cut my onion in between a fine chop and a mince.
Use your hands to combine the ingredients. This meatloaf is so easy that there isn't even any sautéing the veg before baking. Simply combine all of the raw ingredients in a bowl and use your fingers to gently mix until incorporated.
Don't overwork the meat mixture. Use a light but firm hand when incorporating the meat ingredients. Avoid over-mixing the beef or it could result in a meatloaf that's either gummy and pasty or dry and chalky.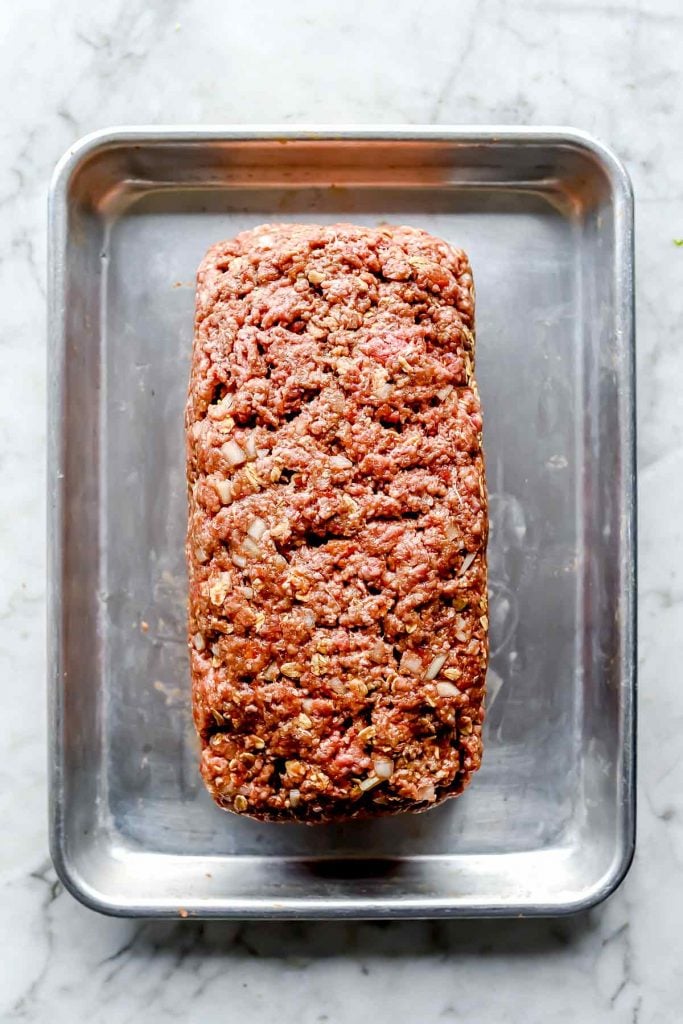 What is Meatloaf Baked in
Bake the meatloaf on a rimmed baking sheet. The meatloaf will release juice and fat as it cooks. To avoid making a mess in the oven, be sure to use a rimmed or lipped baking sheet, casserole dish, or bread pan. Because the ground beef has enough fat in it, there's no need to grease the pan it's baked on.
Dump and mold the meat. Form the meatloaf into about a 9 X 5-inch block (you could always do this in a loaf pan if you wanted), evenly shaping it without overworking it.
Glaze the meatloaf before baking. Adding the glaze to the meatloaf before cooking creates a caramelized crust on the top.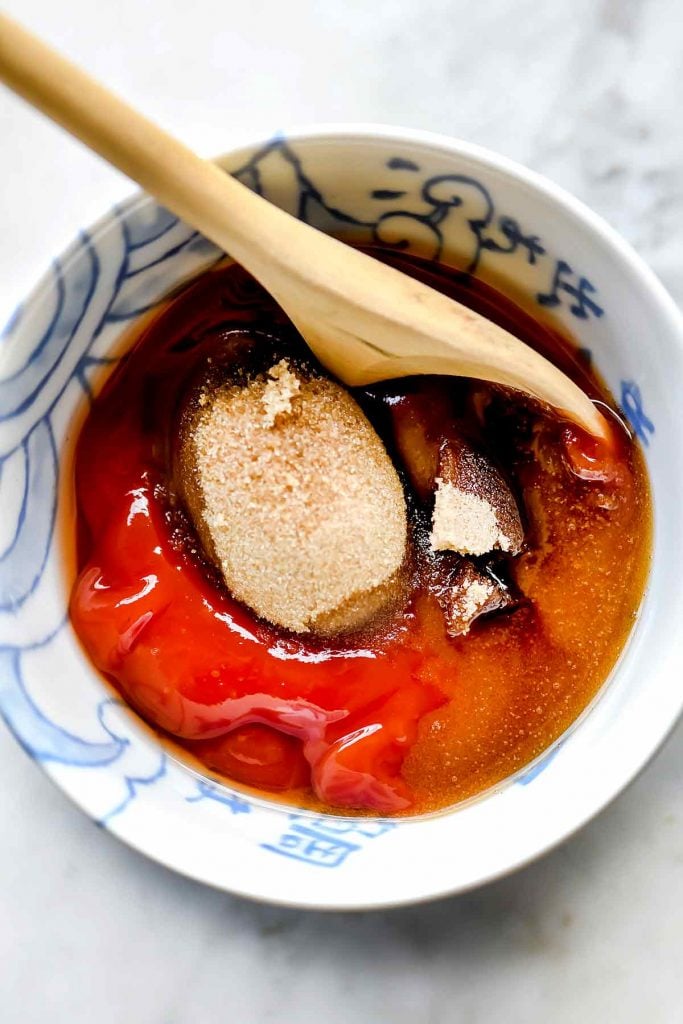 The Best Meatloaf Glaze
Grandma's glaze creates a tangy, sweetly caramelized crust on the top of the meatloaf. It's seriously one of the best parts of the dish, so don't be shy when glazing it.
This meatloaf glaze is: 
Ketchup
Light brown sugar (dark brown sugar, honey, or molasses would work too)
Red wine vinegar (substitute cider vinegar if needed)
Other Meatloaf Glaze Ideas
Barbecue sauce
Chili sauce
Teriyaki glaze
Korean gochuchang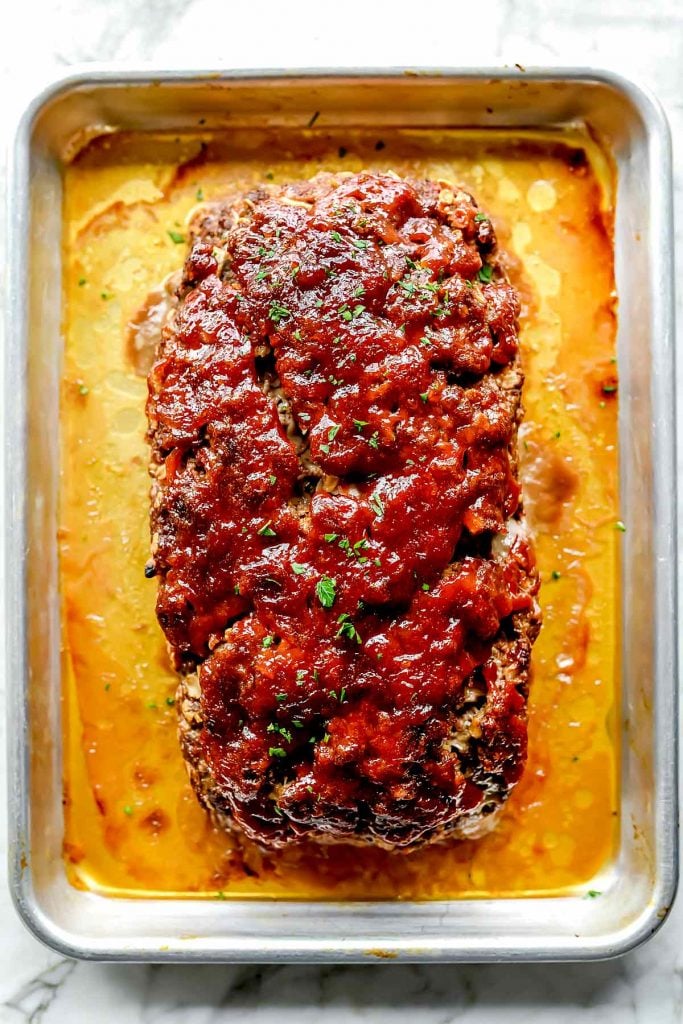 Should You Bake Meatloaf Covered or Uncovered
I bake my meatloaf uncovered and never have any issues with burning.
How Long to Cook Meatloaf
Cook the meatloaf at 350°F for 1 hour. Cook this meatloaf, uncovered, in a 350°F oven for 1 hour, or until the internal temperature reaches 160°F on a meat thermometer.
Let it rest. Once the meatloaf is removed from the oven, give it at least 10-15 minutes to rest for the juices to settle into the meat before cutting it so the juices don't run out. This also allows the meat to firm up so it won't break apart when sliced.
Can You Make Meatloaf Ahead of Time
Like spaghetti meat sauce, braised pork ribs, and homemade chili, meatloaf is one of those dishes that tastes even better when eaten the next day. A little time in the refrigerator after cooking makes the meat mixture more firm and condensed, and perfect for sandwiches. Or, mix the meatloaf ingredients, mold, and wrap tightly uncooked and without the glaze. Freeze overnight or for up to 3 months.
How to Freeze Meatloaf
Meatloaf can be frozen cooked or uncooked. If freezing cooked meatloaf, cool completely before wrapping tightly in aluminum foil or plastic wrap, and placing it in a freezer bag. If uncooked, wrap tightly, place in a freezer bag, and freeze for up to 3 months.
To reheat: Place frozen meatloaf on a baking sheet and bake from frozen at 350°F for 1 1/2 hours or until the center registers 160°F.
What to Serve With Meatloaf
If you make this recipe, please let me know! Leave a 
 rating on this recipe below and leave a comment, take a photo and tag me on Instagram with #foodiecrusheats.
Print
The BEST Meatloaf Recipe
My grandma's BEST easy meatloaf recipe with oats mixed with ground beef, powdered milk, and a sweet ketchup glaze makes a juicy meatloaf every time.
Servings 6
Calories 351kcal
Ingredients
1 1/2

pounds

85% lean ground beef

1

cup

minced yellow onion

, about 1/2 medium onion

1

15 ounce

can crushed tomatoes

1/2

cup

old-fashioned oats

1/3

cup

powdered milk

3

cloves

garlic

, pressed or minced

1

tablespoon

Worcestershire sauce

1

teaspoon

kosher salt

1

teaspoon

freshly ground black pepper

1/3

cup

ketchup

2

tablespoons

light brown sugar

1

tablespoon

red wine vinegar
Instructions
Preheat the oven to 350° F.

In a large bowl, use your hands to gently mix together the ground beef, onion, tomatoes, oats, powdered milk, garlic, Worcestershire sauce, kosher salt, and freshly ground black pepper. Don't over mix the ingredients.

On a rimmed baking sheet or in a 9 X 13 baking dish, dump the meat mixture into a pile, and mold the meat into a 9 X 5-inch rectangular loaf.

In a small bowl, mix together the ketchup, brown sugar, and red wine vinegar until smooth. Spread the glaze evenly over the top of the loaf.

Bake the meatloaf for 1 hour or until the center registers 160°F. Let the meatloaf rest for 10 minutes, then slice into thick pieces and serve.
Nutrition
Calories: 351kcal | Carbohydrates: 18g | Protein: 24g | Fat: 19g | Saturated Fat: 8g | Trans Fat: 1g | Cholesterol: 84mg | Sodium: 641mg | Potassium: 574mg | Fiber: 1g | Sugar: 11g | Vitamin A: 140IU | Vitamin C: 4mg | Calcium: 105mg | Iron: 3mg
More Ground Beef Dinner Ideas
We send good emails. Subscribe to FoodieCrush and have each post plus exclusive content only for our subscribers delivered straight to your e-mail box.
Follow me on Instagram, Facebook, Pinterest and Twitter for more FoodieCrush inspiration.
As always, thank you for reading and for supporting companies I partner with, which allows me to create more unique content and recipes for you. All opinions are always my own.