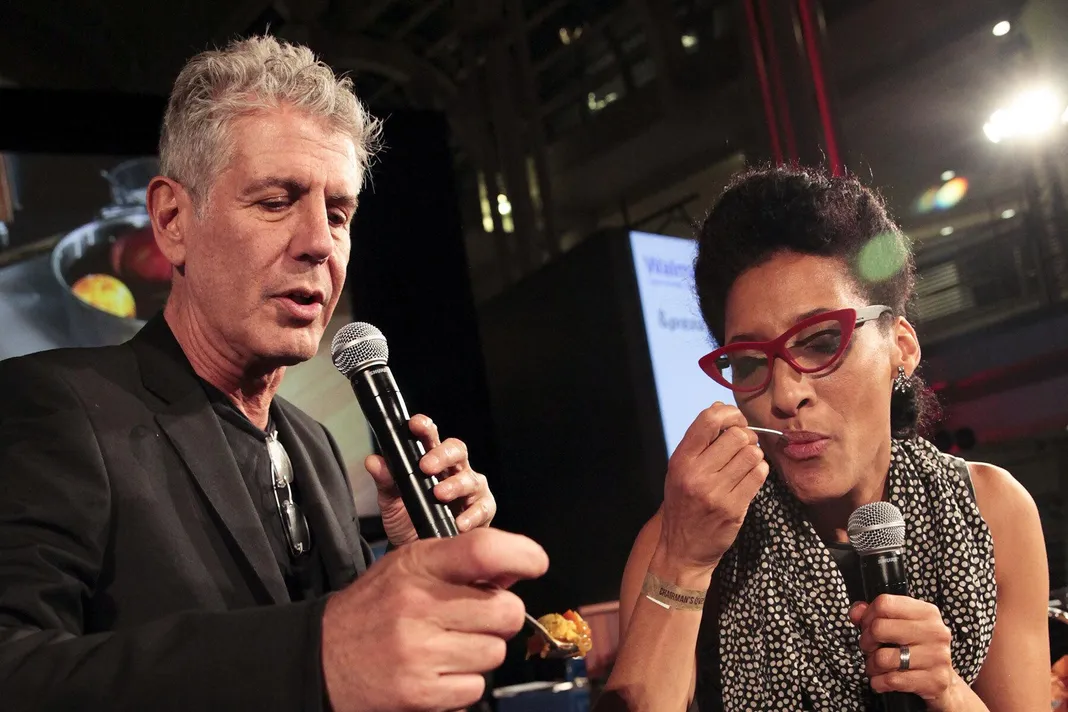 Get a taste of the life of these famous chefs
Creativity in cooking has given rise to a new type of fame in recent decades: the celebrity chef. 
Thanks to dedicated network programming by the Food Network, Travel Channel, Netflix, and the Cooking Channel, there is no shortage of mouthwatering, chef-hosted programming; even Oprah's getting in on the foodie fun with her recently announced OWN in the Kitchen featuring an all-female lineup. 
Memorable quotes by famous chefs that make us say *chefs kiss*
Food has so much power, and so do words. Here are some memorable celebrity chef quotes that we love:
"People who love to eat are always the best people." – Julia Child 
"I love my pizza so much, in fact, that I have come to believe in my delirium that my pizza might actually love me, in return." – Elizabeth Gilbert in her memoir Eat, Pray, Love (Julia Roberts plays Elizabeth in the movie adaptation)
"I'd like to think that when I invite friends to my house, they know what I'm really saying is, "I love you; come for dinner." – Ina Garten
"In that unforgettably sweet moment in my personal history…I attained glory." – Anthony Bourdain on the life-changing moment of eating an oyster at age 10, described in Kitchen Confidential: Adventures in the Culinary Underbelly.
"I'll have what she's having." – Rob Reiner's Mother Estelle as Woman in Diner upon hearing Meg Ryan's character faking an orgasm in the classic Katz's deli scene from When Harry Met Sally
Food is love, and famous chefs celebrate this truth
Plenty of TV and films also help us express the magic of food-inspired love. During the pandemic, for instance, we long to sit in a booth and eat greasy breakfast food with our friends, much as the Seinfeld besties do.  We're Ratatouille-level obsessed with comfort food, like the Gilmore Girls eating their pancakes at Luke's Diner. (Don't worry, we'll share some five-star worthy comfort foods below.)
We definitely don't want our ramen noodles mixed with terror, as director Bon Joon-ho artfully did in last year's Best Picture film Parasite. Instead, let us pursue the perfect ramen noodle dish, as the characters do in the 1985 classic Japanese movie Tampopo.
Without too much effort, we also want to be that guy or gal who has delicious bruschetta at the ready. 
Remember that scene in 30 Rock when Food Network star Ina Garten leans over the garden hedge of an East Hampton home to invite Liz Lemon (Tina Fey) over for bruschetta and a glass of white wine? 
We instantly recognize the fantasy and the joke: we're wannabes too. Sure, we're in awe of The Barefoot Contessa, but we also identify with Liz, a busy woman who wants to casually have on hand the most delicious bruschetta on the planet while also working on her night cheese in a Snuggie.
Just wanna curl up with some night cheese and Ina Garten reruns, tbh. pic.twitter.com/crf3e3vOx6

— 30 Rock (@30Rock) February 25, 2021
Okay, as long as we're talking about Ina Garten, we also secretly want to serve a roast chicken that matches a devotion to our partner. "Jeffrey's Roast Chicken," as her Perfect Roast Chicken recipe is known, is basically the holy grail of romance because it's Ina Garten's husband Jeffrey's favorite.
When we're not striving to be our best selves through food, we sometimes deal with stress through food. We might not eat a chocolate cake from the garbage can, as Miranda does in Sex and the City or an éclair from the trash as George does in Seinfeld — but if we caught our spouse cheating, we might eat mashed potatoes straight from the pot, as Meryl Streep does in the classic 1986 film Heartburn. (Incidentally, Meryl Streep eats those mashed potatoes shortly before she throws a key lime pie in her husband's face.) 
In fact, according to Food on Film, celebrity chef Nigella Lawson is a fan of an early scene in Heartburn, when Meryl Streep and Jack Nicholson eat spaghetti carbonara together post-sex. Their meal is a "chin-dripping, love-soaked primal feast," she says in an introduction to her own recipe for spaghetti carbonara in her book How to Eat.
Heartburn screenwriter Nora Ephron also wrote one of the greatest films about celebrity chef fandom: Julie & Julia. Through the journey of a super-fan working her way through Julia Child's famous cookbook Mastering the Art of French Cooking, the film explores the life and career of the original celebrity chef Julia Child.
Get a glimpse behind the Chef's Table with this popular Netflix show
The Emmy-nominated series Chef's Table on Netflix highlights culinary stars from across the world "who are redefining gourmet food with innovative dishes and tantalizing desserts."
Christina Tosi's episode dives into how this celebrity pastry chef channels her love for junk food into the popular Milk Bar store treats that can now be ordered online and shipped nationwide.
Watch all of the episodes on Netflix with plenty of snacks on hand!
Celebrity chefs entertain us in so many ways 
If you're like us, you've already tuned in to their talents showcased on the Food Network, their cookbooks, or their restaurants, but here's our list of the top celebrity chefs. 
We've included a dash of quotes to live by, a pinch of recipes to try, and a sprinkling of yummy ideas to bring these food-loving personalities into your life at home.
Famous chefs: Julia Child  
Julia Child is widely considered one of the original female celebrity chefs. She was among the first to have her own televised cooking program, The French Chef, produced and broadcast by the public television station WGBH in Boston, from 1963 to 1973. Reruns continued on PBS until 1989, and the show is still available on PBS's streaming service.  
Stay tuned for a new TV series from HBO Max called Julia based on her life. "We are so happy to help bring the incomparable Julia Child back to the small screen, when we need her more than ever. This show's look into her life, marriage, and trailblazing career as she transformed the way we talk about food is an absolute delight," says Sarah Aubrey, head of original content for HBO Max in Food and Wine. The series will star two-time British Academy Television Awards winner Sarah Lancashire as the famed chef. The pilot was written by Daniel Goldfarb, best known for The Marvelous Mrs. Maisel, and directed by Charles McDougall, who previously worked on House of Cards.
Julia Child made French cuisine more accessible to the everyday cook with her cookbook Mastering the Art of French Cooking, published in 1961. Still, chefs and food critics credit "her spirit and sense of humor" as important to her legacy, too.
Julia Child loved butter—she reportedly used 753 pounds of it during the four seasons of Baking With Julia, a PBS show that aired in the 1990s. 
And fans loved her hard work. According to the Julia Child Foundation, it took Julia Child nine years of research, editing, and recipe testing to complete her cookbook.
Fans also enjoy learning that Julia Child's own mother rarely cooked and that Julia Child herself didn't start cooking until she was 32. It's never too late to follow (or discover) your true passion!
cooking, or as I like to call it: creating Julia Child fanfiction

— zeynep (@umzeynep) February 27, 2021
Julia Child quote to live by: "The only real stumbling block is fear of failure. In cooking, you've got to have a what-the-hell attitude."
Julia Child recipes to try: Coq Au Vin, French Onion Soup, Chocolate Mousse
A yummy idea: Make chocolate mousse and settle in for a viewing of Julie & Julia.
Famous chefs:  Ina Garten
Barefoot Contessa is the name of Ina Garten's cooking show on Food Network. Cookbooks include Modern Comfort Food, Cooking for Jeffrey, Barefoot Contessa: How Easy is That?, Barefoot in Paris, and Barefoot Contessa Parties! 
Ina Garten's culinary career began with her gourmet food store "Barefoot Contessa" located in Easthampton, NY.
Before then, she worked at the White House where she helped write the nuclear energy budget!
ina garten (barefoot contessa) used to work at the White House it doesn't matter what you're doing now if you want to change paths YOU CAN

— tyler oakley (@tyleroakley) June 11, 2015
For a sense of the Barefoot Contessa's charm and wit, take a peek at the video that went viral earlier in the pandemic:
Virtual happy hours everywhere were glad to share her hilariously oversized cosmopolitan, with Ina Garten's charming reminder, "don't forget the cocktails!"
The celebrity chef has been turned into memes and has even been mentioned in the jokes of Twitter comedians like @jaboukie: 
put pickled jalapeños and oregano on my frozen pizza before putting it in the oven. ina garten just sent a cease and desist

— giabuchi lastrassi (@jaboukie) December 11, 2019
French cooking is Ina Garten's specialty, but she also offers American and Italian recipes, among other cuisines. 
The beauty of Ina Garten is you don't have to lift a finger in the kitchen to enjoy her shows.
Favorite part of my day is unwinding after work and watching Ina Garten make dinners and desserts I would never possibly be able of replicating

— Ford Focus Foley (@FoleyLives) March 1, 2021
Someone asked Ina Garten for Italian recipes for his vegetarian, lactose intolerant girlfriend & she told him to break up with her LMFAOOOOO

— J*jo S*wa is 37 years old 🎀 (@arieella_) March 26, 2017
Ina Garten quote to live by: "You can be miserable before you have a cookie and you can be miserable after you eat a cookie but you can't be miserable while you are eating a cookie."
Ina Garten recipes to try: Weeknight Bolognese, Creamy Parmesan Polenta, Chicken Stew with Biscuits
A yummy idea: Pour Ina Garten's herb butter recipe over popcorn and watch your favorite movie – or try tackling this movie bucket list.
Famous chefs:  Masaharu Morimoto
Iron Chef Masaharu Morimoto believes "cooking is entertainment." He has been an Iron Chef star on the Food Network. His cookbooks include Mastering the Art of Japanese Cooking and The New Art of Japanese Cooking. His popular restaurants are located in Napa, Las Vegas, Seattle, New York City, and Philadelphia, as well as others across the world.
Masaharu Morimoto quote to live by: "Culture and tradition have to change little by little. So 'new' means a little twist…I put Italian mozzarella cheese with sashimi. I don't think 'new new.' I'm not a genius. A little twist."
Despite what he says, Masaharu Morimoto is considered a genius at blending Western and Japanese cuisines. He has a signature style that makes him an outstanding celebrity chef.
Let's not forget this iconic moment:
so was nobody going to tell me that in 2000, bobby flay (serving a dish he called "ethnic crab cake") competed against masaharu morimoto in iron chef which he arrogantly pre-claimed victory to, and morimoto proceeds to absolutely school him AND win the battle?? needed this pic.twitter.com/k7Px9thnFW

— sarah 🧄 (@s_whip_) September 13, 2020
Masaharu Morimoto recipes to try: Chicken Cooked in Beer, Potato Dumplings, Vegetable Sushi
A yummy idea: Have a date night at one of his restaurants, or snag his homemade sake and have a date night at home. If you're brave, try making your own sushi with this DIY sushi kit.
Famous chefs: Anthony Bourdain
Anthony Bourdain made a career as a beloved celebrity chef who traveled the world and graciously took us all along with him for the ride.
He opened our eyes to different cultures, shared meals with locals, and kept us on the edge of our kitchen chairs as he tried new and sometimes shocking cuisines. Anthony Bourdain got his start at popular New York City restaurants like The Supper Club and Les Halles, and achieved fame as the author of Kitchen Confidential: Adventures in the Culinary Underbelly. 
Later, his television shows––A Cook's Tour on the Food Network, Anthony Bourdain: No Reservations on the Travel Channel, and Anthony Bourdain: Parts Unknown on CNN––are what brought him next-level success. While on location in France in June of 2018, Anthony Bourdain died by suicide. He will forever be missed for his one-of-a-kind personality.
I'm watching No Reservations and it occurred to me that Anthony Bourdain was a perfect example of what it means to be a kind person but not necessarily a nice one

— Ifrah (@Ifrahmed) February 28, 2021
I realized this morning that I reference things Anthony Bourdain said or did with the same level of frequency I do members of my immediate family

— Julia Claire (@ohJuliatweets) February 27, 2021
Anthony Bourdain quote to live by: "If you're 22, physically fit, hungry to learn and be better, I urge you to travel – as far and as widely as possible. Sleep on floors if you have to. Find out how other people live and eat and cook. Learn from them – wherever you go." — from Medium Raw: A Bloody Valentine to the World of Food and the People Who Cook 
Anthony Bourdain recipes to try: His Boeuf Bourguignon recipe is cited as one of The Washington Post's most popular recipes ever. 
A yummy idea: For a simple but delicious breakfast, try his savory bodega sandwich; as recommended, serve with a side of "sh*tty coffee."
Famous chefs: Rachael Ray
Celebrity chef, author, and television personality Rachael Ray is a household name with her own line of cookware. She hosts a syndicated talk show program called Rachael Ray along with several Food Network shows: 30 Minute Meals, $40 a day, Rachael Ray's Tasty Travels, and Inside Dish. Her national magazine Every Day with Rachael Ray offers recipes, food safety tips, interviews with featured chefs, and other lifestyle content. 
Rachael Ray quote to live by: "The most essential part of my day is a proper dinner."
Rachael Ray recipes to try: Cheesy Chicken & Rice Casserole, Ricotta and Meat Cannelloni, Ground Turkey Shepherd's Pie
A yummy idea: Short on time but love to eat? Expand your palate and hone your kitchen skills with Rachael Ray's 30 Minute Meals Greatest Hits.
Famous chefs: Gordon Ramsay 
A master chef, Gordon Ramsay is also a pro at creating popular kitchen-themed reality series. He has hosted a string of successful TV Shows, including 24 Hours to Hell and Back, Summer of Gordon, Hotel Hell, Kitchen Nightmares, and Master Chef, to name a few.
This British chef has restaurants across the globe, as well as cookbooks like Gordon Ramsay's Ultimate Fit Food, Gordon Ramsay's Bread Street Kitchen Cookbook, and Gordon Ramsay's Ultimate Home Cooking.
Known for his harsh judgment and bleep-filled yelling in the kitchen, this celebrity chef has been an inspiration for countless memes. 
We love watching Gordon Ramsay's TikToksreacting to the ridiculous recipes people try to make:
A Gordon Ramsay quote to live by: "This pizza is so disgusting, if you take it to Italy you'll get arrested."
Gordon Ramsay recipes to try: Beef Wellington, Truffle Mac & Cheese, World's Best Brownies 
A yummy idea: Take Chef Gordan Ramsay's Masterclass and learn how to "take your cooking skills to the next level."  
Famous chefs: Wolfgang Puck
Austrian-American Wolfgang Puck achieved popularity as a restaurant chef and published author of several successful cookbooks, the first of which was titled Modern French Cooking for the American Kitchen, featuring recipes from the restaurant Ma Maison where Puck was a part-owner.
He went on to open additional restaurants and eateries, including the legendary Los Angeles restaurant Spago (later moved to Beverly Hills), which has remained on Food & Wine's top 40 best restaurants in the U.S. for more than 15 years. His successful Food Network show called Cooking Class with Wolfgang Puck elevated him to icon status, leading to roles on shows like Frasier, Tales from the Crypt, American Idol, and Iron Chef: Battle of the Masters.
A Wolfgang Puck quote to live by: "When you have made as many mistakes as I have, then you can be as good as me."
Wolfgang Puck recipes to try: Potato Pancakes with Smoked Salmon, Caviar and Dill Cream, Homemade Pizza Dough, Wild Mushroom Risotto
A yummy idea: Host a simple Oscar night party for the family with some amazing four cheese pizza and Puck's favorite macarons for dessert.
Famous chefs: Thomas Keller
Winner of multiple James Beard awards, Thomas Keller is an American chef who owns several restaurants, the first of which is the famous The French Laundry in Napa Valley. He has published numerous cookbooks, and, according to his bio, is "the first and only American-born chef to hold multiple three-star ratings from the prestigious Michelin Guide, as well as the first American male chef to be designated a Chevalier of The French Legion of Honor." 
A Thomas Keller quote to live by: "This is the great challenge: to maintain passion for the everyday routine and the endlessly repeated act, to derive deep gratification from the mundane."
Thomas Keller recipes to try: Lemon-Brined Fried Chicken, Iceberg Wedges with Bacon and Buttermilk Dressing
A yummy idea: A dreamy anniversary trip to Napa, feasting on the tasting menu at The French Laundry.
Famous chefs: Giada De Laurentiis
Once a regular on NBC's Today Show, Giada De Laurentiis went on to become a successful chef, TV personality, restaurateur, and author of multiple cookbooks, including a YA novel series. Giada De Laurentiis has had several successful shows on The Food Network, including past projects Everyday Italian, Behind the Bash, Weekend Getaway. In her current show Giada at Home, she brings her famous style and Italian influence to everything she does.
A Giada De Laurentiis quote to live by: "Food brings people together on many levels. It's nourishment of the soul and body; it's truly love."
Giada De Laurentiis recipes to try: Roasted Beef Tenderloin with Basil-Curry Mayonnaise, Chicken Milanese with Tomato and Fennel Sauce, Frozen Banana Ice Cream Sandwiches
A yummy idea: Give your kids her Recipe for Adventure series featuring "the Bertolizzi siblings, Alfie and Emilia, as they discover the sights, sounds, and tastes of the world's greatest culinary destinations." Inspire a love of cooking with your child(ren) by making the recipes together from each book that feature cultural favorites from around the world.
Famous chefs: Guy Fieri
This Food Network chef and "mayor of Flavortown" stars in Diners, Drive-Ins and Dives, Guy's Big Bite, and Triple D Travels. His cookbooks include Guy Fieri Food: Cookin' It, Livin' It, Lovin' It, Diners,Drive-Ins & Dives, and Guy Fieri Food.
He definitely makes us feel less alone.
does anyone else ever feel less alone with guy fieri on in the background

— little hurt 🥀 (@LittleHurt) February 27, 2021
Guy Fieri goes way beyond food. In 2015, he famously officiated 101 gay weddings after Florida lifted the ban on same-sex marriage. During the pandemic, he raised $21.5 million for restaurant workers with many saying he did more than Congress ever could.
at least once per day I think about how I have never judged a book by its cover so badly as I once did Guy Fieri

— Claire Willett (@clairewillett) December 5, 2020
In recent years, Guy Fieri has become an internet icon. His face has been used in countless memes, and he embraces it too, making his very own Guy Fieri memes:
guy fieri looks like if santa claus was in sugar ray

— rax 'undefeated spelling bee champ' king (@RaxKingIsDead) December 16, 2020
He even launched his own merch through the Flavortown online store:
native to the rolling hills of Flavortown🍀"O'Fieri's Pub" tee available now🍻
🛒: https://t.co/xqxhwobBFG pic.twitter.com/Scr23Di48w

— Flavortown (@flavortown) March 2, 2021
A Guy Fieri quote to live by: "This is off the hook!"
Guy Fieri recipes to try: Cuban Pork Chop with Mojo, Tex Wasabi's Koi Fish Tacos, Texas French Toast Bananas Foster 
A yummy idea: Try Guy's recipe paired with a "dive" drink this weekend – Jack & Ginger, anyone?
Famous chefs: Carla Hall
Carla Hall is the "queen of soul food." This star chef co-hosted the now-canceled ABC lifestyle series The Chew, competed in Bravo's Top Chef, is a Culinary Contributor to Good Morning America, and is a judge on Netflix's Crazy Delicious and Food Network's Bakeaway Camp.
Cookbooks include: Carla Hall's Soul Food: Everyday and Celebration, Cooking with Love: Comfort Food that Hugs You
A Carla Hall quote to live by: "If you're not in a good mood, the only thing you should make is a reservation."
Carla Hall recipes to try: Portuguese Salted Codfish Fritters, Breakfast Lasagna, Peanut Butter Banana Bacon Ice Box Cake
A yummy idea: Awards season is here. Plan a watch party potluck and ask everyone to make one of the free recipes from Carla Hall.
Famous chefs: Troy Johnson
Troy Johnson is not only a famous food journalist for San Diego Magazine, but the former host of Crave on the Food Network, and now a popular judge on its Guy's Grocery Games with Guy Fieri.
Troy's Twitter has tens of thousands of followers who are there as much for his clever wit outside of the kitchen as for his hot links to reader faves in @sandiegomagazine like "A Love Letter to Tacos," "This is How You BBQ" and "Dining Out During a Pandemic."
A Troy Johnson quote to live by: "My favorite thing about humans may just be our ability to drench potatoes in mayonnaise and call it a salad with a straight face." 
A yummy idea: Get inspired by following The Feed, Troy's column on food trends, local west coast eateries, and how-tos for savory recipes. Eat while watching Troy on Guy's Grocery Games and play along from home!
Famous chefs: Sunny Anderson 
Sunny Anderson is a co-host of Food Network's The Kitchen, has competed on Chopped, and offers recipes on Home Made in America with Sunny Anderson and Cooking for Real. Her cuisine blends bold flavor combinations with simple short-cuts.
Sunny Anderson cookbook: Sunny's Kitchen: Easy Food for Real Life
A Sunny Anderson quote to live by: "From both my parents, I learned that cooking was just about being fun and creative…no rules!"
Sunny Anderson recipes to try: Quick Tomato, Peppers, and Mozzarella Salad, Strawberry Applesauce, Easy Salmon Pie
A yummy idea: Head to your local park and pack a picnic by making "real life" recipes from her cookbook.
We hope you enjoyed this feast of interesting tidbits about famous chefs. If you want more of the hottest food-themed shows people are talking about now, check out Top Chef on Bravo, The Great British Baking Show on Netflix, or Pioneer Woman on Food Network. 
More Like This: Experience the rich culture of Italy with Stanley Tucci's new show
We're reimagining Hollywood.com as a place where entertainment news actually entertains you. We're sharing the good in Hollywood, spotlighting the feel-good stories that matter about any and every kind of celeb. Be a part of the good in Hollywood in your very own neighborhood with our app (coming soon!) that gives you a whole new way to buy movie tickets––in seconds. Follow us on Instagram for more feel-good celeb stories.
FYI: this post contains affiliate links, which means we may earn a small percentage on any items you buy through the links we share with you. This helps make it possible for writing entertainment news made for you.