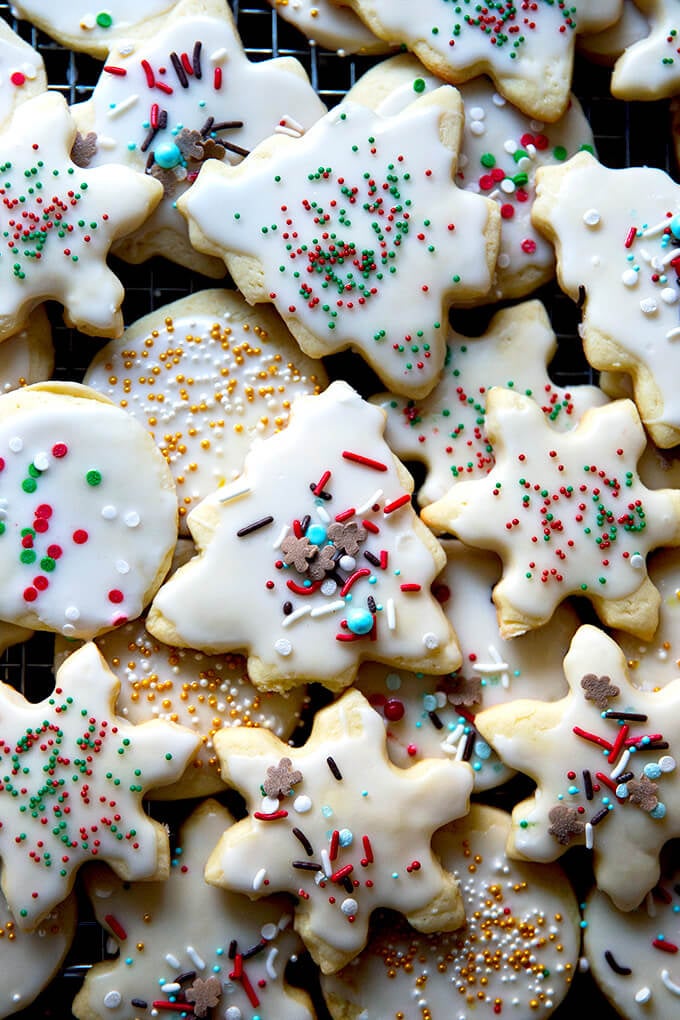 Friends, it's here: the month to bake bake bake. Here are 30 Christmas cookie recipes to make and gift this holiday season.
This year I've added two new cookies to my Christmas cookie repertoire: crisp and chewy gingersnaps and contest-winning peanut butter cookies, both of which I find irresistible.
In the weeks ahead I will make a batch of this classic cream cheese cutout dough, which I will set on the table along with rolling pins and cookie cutters, and I'll let the children go to town.
As always, I could never let the holiday season pass without making Kristina's Molasses Crinkles, Simple Classic Shortbread, and Chewy Chocolate Sugar Cookies.
The below selection of cookies is organized as follows:
---
Classics
1. Classic Cream Cheese Cutouts: This is the recipe I make every year with my children. It's easy and good, and I don't stress about them coming out perfectly, because that's not what Christmas is about … right? This recipe yields an enormous amount of cookies, and they keep well for days (weeks!) in an airtight tin.
2. Kristina's Molasses Crinkles: My cousin Kristina makes the best (award-winning!) cookies, and these are one of my favorites—sugar-crusted, chewy, and perfectly spiced.
3. Brown Butter (+ Bourbon) Snickerdoodles: These are a new and welcomed discovery, a boozy and nutty twist on a classic.
4. Crisp and Chewy Gingernsap Cookies: Crisp at the edges, soft and chewy in the center, and spiced just right.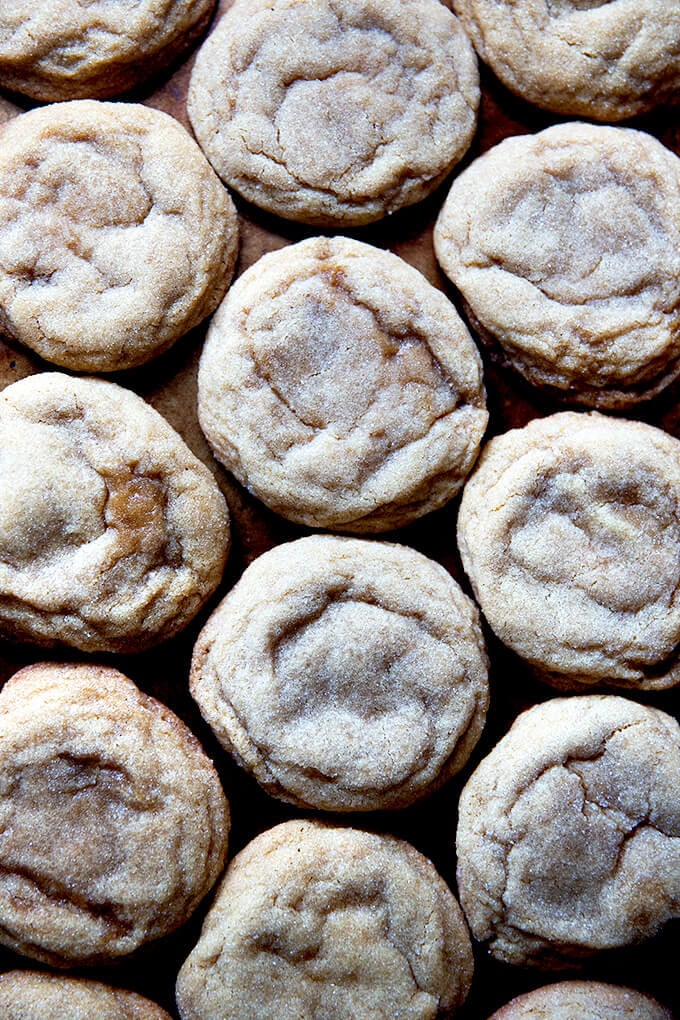 5. Soft and Chewy Brown Sugar Cookies: The use of brown sugar exclusively in these brown sugar cookies gives them the loveliest soft and chewy texture.
---
Peanut Butter Cookies
6. Soft and Chew Contest-Winning Peanut Butter Cookies: Sugar-crusted, soft and chewy, perfectly salty, and crinkly to boot!
---
Truffles
7. Rum Balls: so pretty, so easy, so delicious. This is an old-fashioned recipe made with crushed vanilla wafers and confectioner's sugar, and I find them irresistible. These keep well, travel well, and freeze well — great to have on hand around the holidays.
8. Grand Marnier Chocolate Truffles: Rich and boozy, how bad can that be? These truffles can be made ahead and stashed in the fridge — bring them to room temperature an hour or so before serving. Great with coffee (or more booze) after dinner.
9. Chocolate-Covered Peanut Butter Balls: This recipe comes from the mother of one of my mother's students, who made them as a thank you gift for teaching her son. She included the recipe with the balls — how nice?! — and we've been making them ever since. They taste like Reese's Peanut Butter Cups, but better — think: dark chocolate + peanut butter + sea salt. Bonus: the recipe yield 165 balls (!!), all of which can be made ahead of time. Perfect for holiday gifting.
10. Lemon-Coconut Date Balls: Not a traditional holiday truffle, but these chewy bites are delicious nonetheless and the perfect gift for any health-minded friend. The recipe comes from the Autoimmune Wellness Handbook, and you'll need coconut manna (not the same as coconut oil) for this recipe.
---
Chocolate Cookies
11. Chocolate Sugar Cookies: To me these cookies are perfection: deeply chocolaty, perfectly sweet, and nicely salted. But what differentiates them from other chocolate sugar cookies is the inclusion of dark brown sugar, which, like Sarah Kieffer's brown sugar cookies (recipe below), gives them the loveliest chew.
12. Double Chocolate Espresso Cookies: This recipe is an adaptation of my favorite soft and chewy chocolate chip cookies with the addition of espresso and with some of the flour replaced by cocoa. So nice with coffee or milk.
---
Shortbread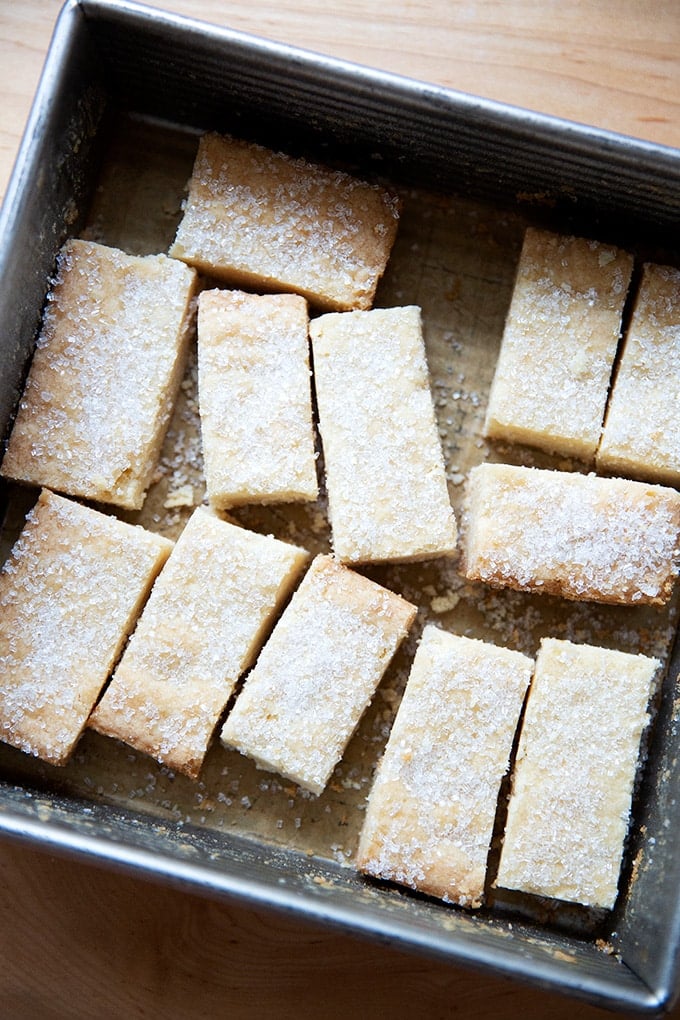 13. Simple Classic Shortbread: When it comes to effort-to-reward ratio, it's hard to beat shortbread. This simple recipe calls for 5 ingredients, does not require a food processor, and yields a super delicious, rich and buttery cookie, perfect for gifting (or eating) all season long.
14. Melissa Clark's Rosemary Shortbread: Salty, sweet, buttery — this shortbread is addictive. The rosemary is subtle but so nice. This has been a favorite since Melissa Clark published the recipe in The Times many years ago.
15. Brown Sugar Shortbread: When you need a three-ingredient cookie to make ASAP… look no further.
---
Dunkers
16. Molly Yeh's Mandel Bread with Marzipan and Sea Salt: Mandel bread, also known as mandelbrodt, literally"almond bread", is a traditional Jewish twice-baked cookie originating from Eastern Europe. It's typically softer than biscotti due to a higher amount of oil or butter, and in Molly's version, the inclusion of marzipan makes them both soft and chewy throughout. In this recipe, the loaves of dough are coated with sprinkles or pearl sugar AND sea salt just before baking, which makes them particularly addictive.
17. Vanilla-Almond Biscotti: These biscotti are an old favorite, crispy — but not rock hard — with a slightly chewy center.
---
Two Dorie Greenspan Favorites
18. Dorie Greenspan's Vanilla Bean Sablés: One of my absolute favorites. Sandy textured, nicely salted, perfectly sweet.
19. World Peace Cookies: Like the vanilla bean sablés, these world peace cookies are sandy in texture, buttery-rich in taste, and nicely salted. But these are midnight-dark in color and super chocolaty … delicious.
---
Stamped Cookies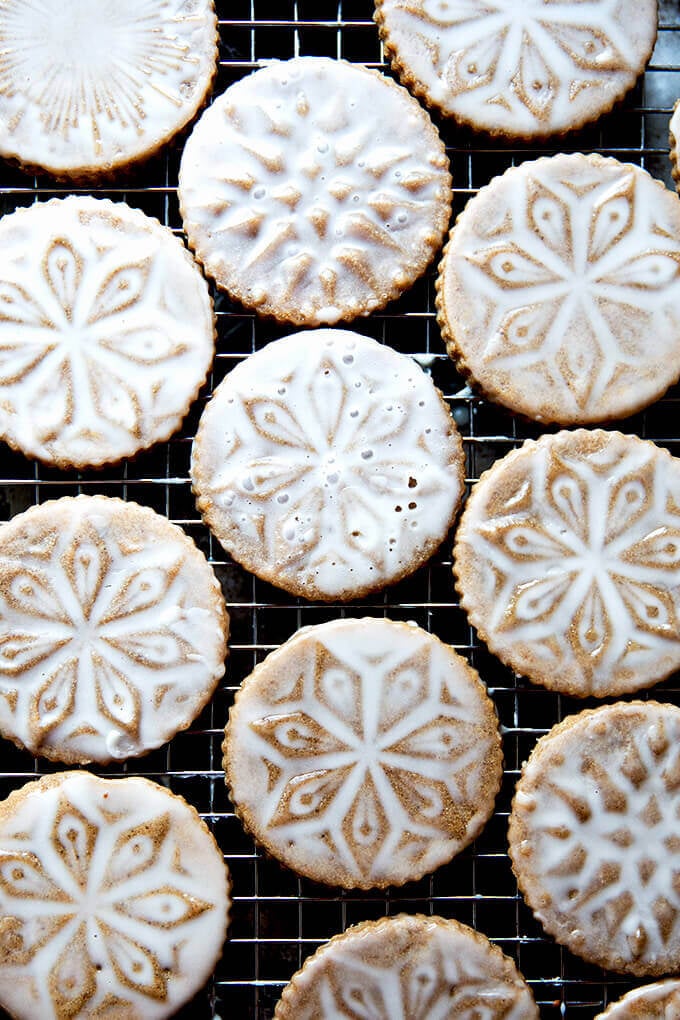 20. Stamped Spiced Brown Butter Sugar Cookies with Maple Glaze: These cookies are as beautiful as they are delicious. This is not one I would recommend making with children as the process requires a little finesse, but the effort — when you have the time and patience — is well worth the reward.
---
Chocolate Chip Cookies
21. Canal House Thin and Crispy Chocolate Chip Cookies: Chocolate chip cookies are not traditional for the holidays, but who doesn't love a chocolate chip cookie? These are thin and chewy and come from the lovely ladies of the Canal House.
22. Soft and Chewy Chocolate Chip Cookies: Santa's favorite.
---
Milk (or Dark) Chocolate Toffee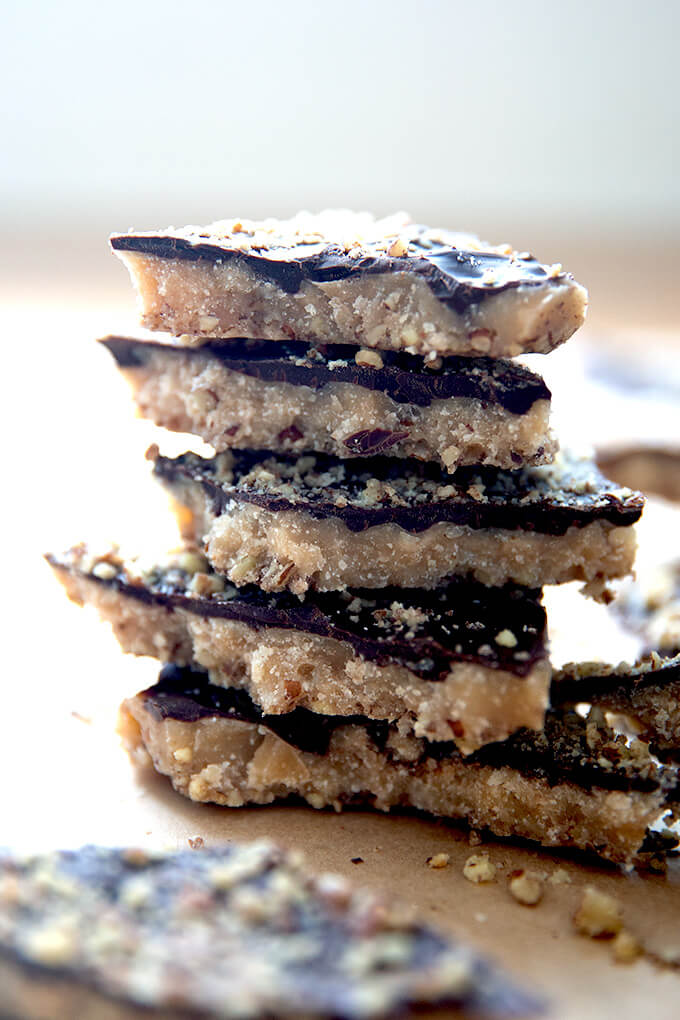 23. Daley Toffee: A family recipe from a dear friend, this toffee is incredibly addictive. Great for gifting and having on hand around the holidays. If the idea of making toffee is intimidating, don't let it! Watch this video:
---
Two Oatmeal Cookies
24. Dark Chocolate, Coconut, Oatmeal Cookies: From the editors of Lucky Peach: "These cookies are best when they have fully cooled, though you will undoubtedly eat some warm because it will take you years to develop the patience to ignore the siren's call until they are ready. You are only human." This is another non-traditional Christmas cookie, but a crowdpleaser nonetheless.
25. Salted Oatmeal Cookies: I've been making this Washington Post recipe since 2007, when my grandmother snipped it out of her Wednesday paper and saved it for me. She was so wonderful. These cookies are loaded with oats, minimally spiced, and a perfect balance of sweet and salty.
---
Two Gluten-Free Treats
26. Gluten-Free Chocolate Chip Cookies: From Jeffrey Larsen's Gluten-Free Baking at Home, these cookies are made with clarified butter, an ingredient that keeps cookies from spreading as they bake. How? Butter has a lot of water in it — clarifying it removes both the water and the milk solids, leaving the butter fat behind.
27. Lemon-Thyme Shortbread: This is a variation of Melissa Clark's rosemary shortbread but made with Cup4Cup gluten-free flour.
---
Linzers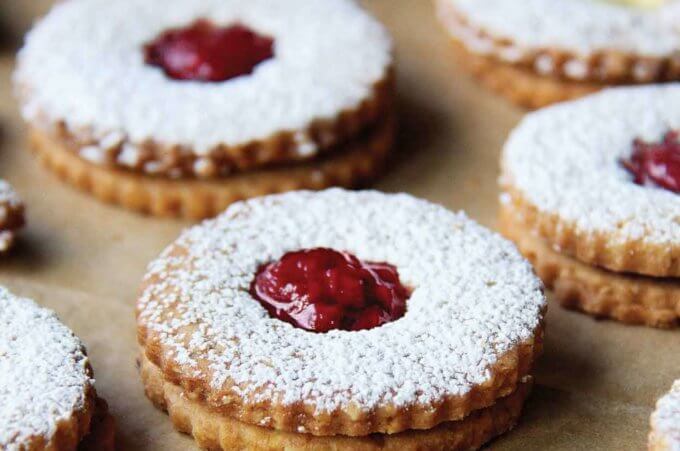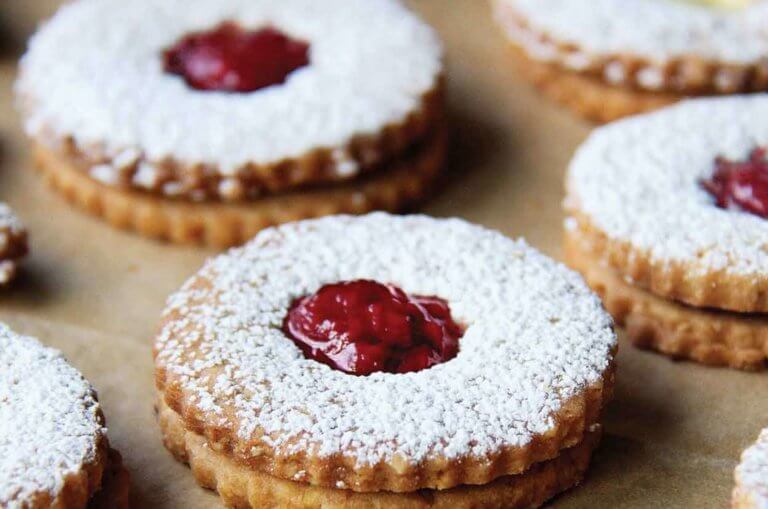 28. Linzer Cookies. I contributed this linzer cookie recipe to King Arthur Flour's Sift a few years back. These require a little bit of work and patience, but: Is there anything more festive than a tray of confectioners' sugar-dusted, jam-filled linzers?
---
Bars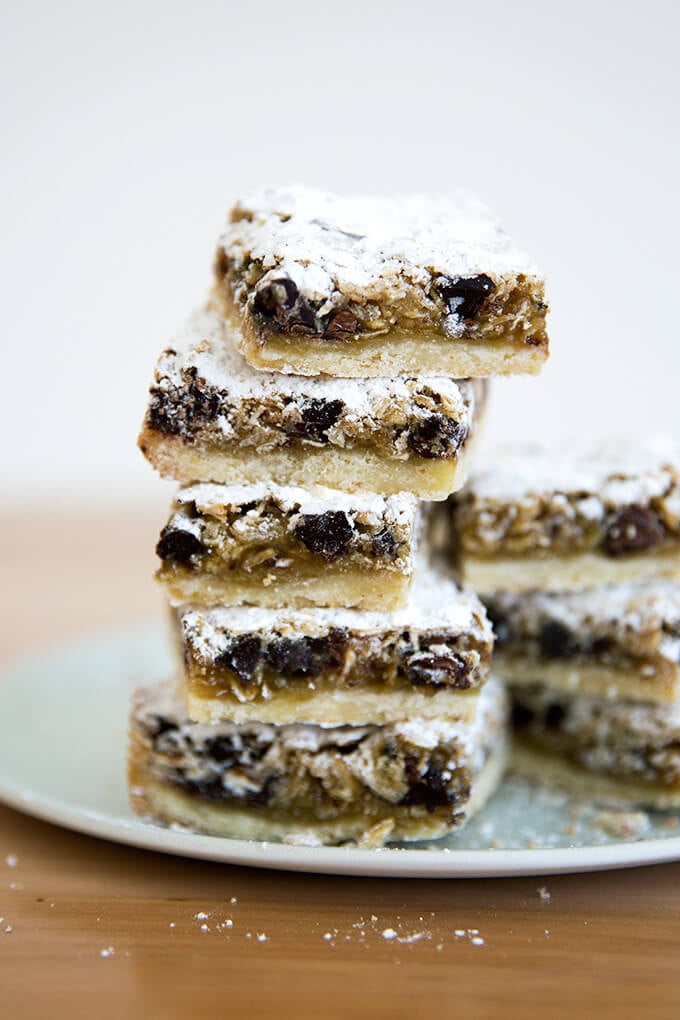 29. Bake Sale Winning-est Gooey Oat Bars: From Deb Perelman's Smitten Kitchen Every Day, these bars are a snap to throw together: a buttery shortbread crust comes together in seconds in the food processor, which then bakes alone while you stir together the gooey topping, a mix of melted butter, sugar, eggs, oats, chocolate, and coconut. Once crust and topping unite, the pan returns to the oven for a quick final bake.
Deb says these bars taste like "brown butter and caramel… like an old-school magic bar, but possibly even more delicious." This is all true, except for the "possibly" part — these are so much better than magic bars.
PS: No one would be upset by the gift of brownies or blondies or hippie crispy treats either.
---
Kitchen Sink Cookies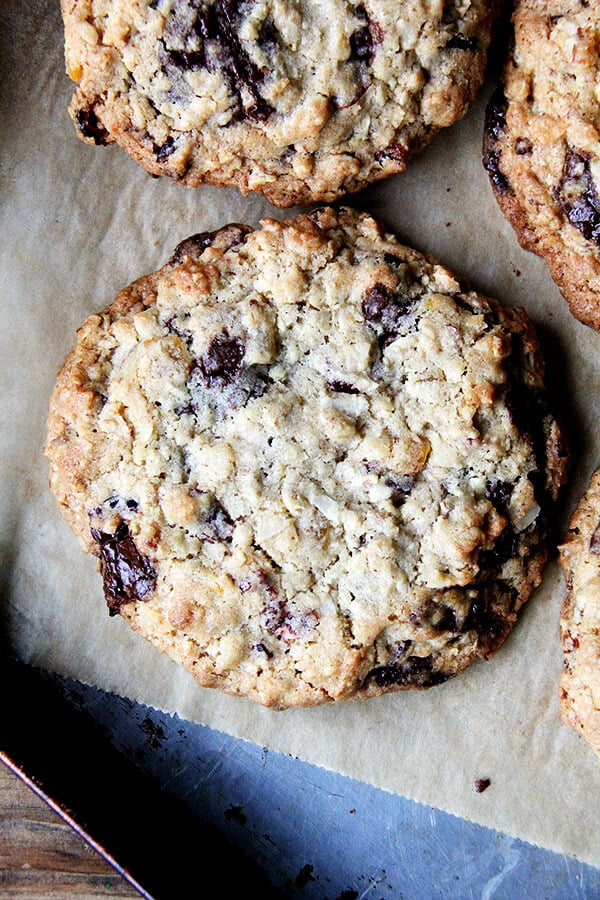 Print
Description
This is an old recipe on the blog, but one I think is kind of fun for the holiday season given that it is loaded with dried fruit and nuts. Apologies for the absence of metric measurements — will add soon!
Adapted From Marth Stewart on PBS
Note: As with many a cookie, letting the portioned dough balls or shaped, unbaked cookies chill in the fridge overnight (but ideally 24 hours or longer) makes for a superior cookie. 
---
1 cup

(

2

sticks) unsalted butter, softened

¾ cup

granulated sugar

¾ cup

packed light-brown sugar

2

large eggs

2 teaspoons

pure vanilla extract

2 cups

all-purpose flour

1 teaspoon

coarse salt

1 teaspoon

baking soda

½ teaspoon

baking powder

1½ cups

old-fashioned rolled oats

1 cup

coconut chips

1 cup

dried apricots, coarsely chopped

1 cup

coarsely chopped dark chocolate

1 cup

dried cherries

1 cup

pecans, toasted
---
Preheat oven to 350 degrees. Line cookie sheets with parchment paper.
Place butter and sugars in the bowl of an electric mixer fitted with the paddle attachment. Beat on medium speed until pale and fluffy, about 2 minutes. Reduce speed to low. Beat in eggs, one at a time, until combined. Mix in vanilla.
In a medium bowl, whisk together flour, salt, baking soda, and baking powder. With mixer on low, gradually add to butter mixture, beating until well combined. Add oats, coconut, apricots, dark chocolate, cherries, and pecans; mix on low until just combined.
Arrange ¾ cup balls of dough on prepared cookie sheets, about 3 inches apart. Use the palm of your hand to flatten into 4-inch rounds. (Note: At this point, you can chill the sheet pans overnight or for as long as 3 days, so long as the pans are well wrapped in plastic wrap.) Bake until golden brown, rotating cookie sheets halfway through, about 16 minutes, possibly a little longer—edges should be starting to brown. Let cookies cool on pan 2 minutes before transferring to a wire rack to cool completely.
Prep Time:

15 minutes

Cook Time:

16 minutes

Category:

Cookies

Method:

Stovetop

Cuisine:

American
Keywords: chocolate, pecan, cranberries, apricots, oatmeal