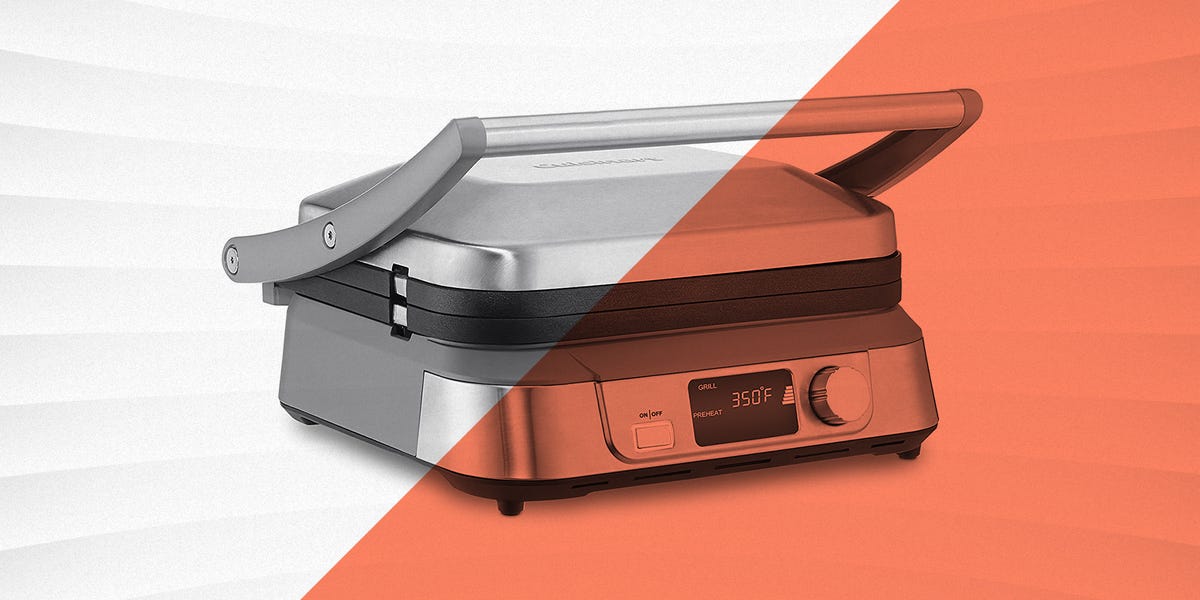 11 Best Indoor Grills of 2021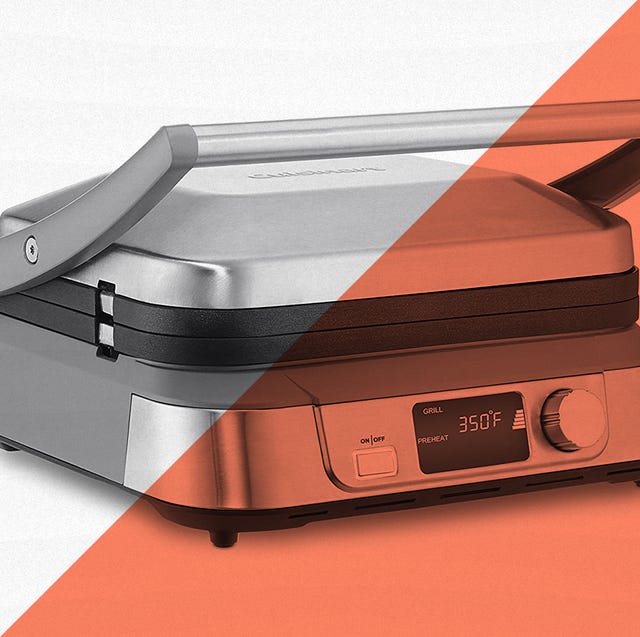 Staff, Courtesy of Cuisinart
There's nothing like grilling season. The scent of smoke, the sear on the steak, that warm summer breeze. But some days just aren't built for grilling. Either it's raining, or it's hot and humid, or maybe you just don't have the right outdoor setup for a grill to begin with. Whatever the reason, indoor grills offer a great alternative.
What to Consider
Unlike charcoal and propane grills, which use a direct, open flame, indoor grills use infrared heat to cook your food. As a result, your indoor grill will produce very little smoke, though you'll still get a little when the fat from whatever you're cooking hits the heating element. Indoor grills heat up fast, are easy to clean, and can do almost anything—from grilling chicken and vegetables to making pizza and toasting melty cheese sandwiches.
Now, a bit of warning: Your grilling and BBQ purist friends may scoff at you. And they have a point. You aren't going to get the same flavor with an indoor grill that you would if you were grilling with charcoal or wood chips. But here's a little secret: You can cheat your way to flavor-town (sorry) by making sure you really brown that meat. The caramelizing, browning transformation that happens to your food when you cook it for long enough at the right heat, otherwise known as the maillard reaction, is what ensures your meat and vegetables have that perfectly grilled flavor. And another tip: You can also infuse smoky flavor with spices or sauces like smoked paprika or a smoky bbq sauce.
There are many options to choose from, and it all depends on what you want to cook and what your kitchen setup looks like. If you lean toward paninis, grilled cheeses, and other no-fuss sandwiches, go with a press-style grill like the George Foreman model. Open grills allow you to sear and cook protein like you would on an outdoor grill. And, finally, flat tabletop grills allow you—with the right attachments—to cook everything from pancakes to pork chops.
How We Selected
I've been grilling for over twenty years. Here's why I've come to appreciate indoor grills. I cook almost every night for a family of four. And on nights when I want to quickly grill up some veggies or burgers without dealing with the weather, an indoor grill is the perfect solution. To help find the best options, I sought advice from cookbook author and registered dietitian Manuel Villacorta, an expert in indoor griddling and grilling. I've included a wide variety of each type of grill in a range of prices, from the rock-bottom budget $29 George Foreman grill to a $400 model by Phillips that comes with a rotisserie attachment.
Advertisement – Continue Reading Below
Best Budget Multitasker
Cuisinart Electric Griddler Indoor Grill
Cuisinart
amazon.com
$94.99
• Dimensions: 8.75 x 16 x 13.75 in.
This thoroughbred from Cuisinart is a sturdy, well-made appliance, and it's easy to swap out grill and griddle plates so you can cook anything from burgers to French toast. You can adjust the temperature with the knobs at the front, though it doesn't go past 450 degrees (like most of the models on the list). You can also use the Cuisinart Griddler to press sandwiches. Villacorta's favorite is a roasted beef and cheese panini.   
Sturdy construction
Grills and presses
Highest temp is 450 degrees
Best Budget Press Grill
George Foreman Grill and Panini Press
George Foreman
amazon.com
$28.94
• Dimensions: 12.28 X 6.5 X 13.27 in.
There are a number of George Foreman grills, but this classic model gets it done for a very low price. It's not an open grill, so it's more ideal for pressed-style burgers and sandwiches. There's no temperature control, just a green light to signal when it's ready to go. It feels very lightweight, but in our testing it quickly and evenly grilled up two burgers at a time (despite its four-serving product name) with minimal cleanup. There's also a handy tray to catch the grease.  
Best Grill for Getting Kids to Help
Zojirushi Indoor Electric Grill
Zojirushi
amazon.com
$89.99
• Dimensions: 20.5 x 14.1 x 6.1 in.
The best thing about this sleek model is how it will look on your dining room table—imagine having a make-your-own kabobs or Korean BBQ night with the kids. The Zojirushi also comes with a temperature control adjuster and, like the other countertop models, a nonstick cooking surface.  
Looks great
Nonstick cooking surface
May not get hot enough for serious grilling
Most Versatile
Ninja Foodi Smart Indoor Grill
• Dimensions: 15.75 x 16.54 x 11.1 inches
This indoor grill from Ninja costs more than many others but also does more because it comes with that magical appliance known as the air-fryer. The digital interface allows you to control temperature with precision, and you can grill, air-fry, bake, roast, and dehydrate.  
Comes with an air fryer
Can also dehydrate, bake, and roast
Easy-to-use digital controls
Best for Cooking a Whole Chicken
Philips Smoke-Less Grill With Rotisserie Attachment
Phillips
williams-sonoma.com
$399.95
• Dimensions: 19.75 x 14.5 x 5.5 in.
At almost $400, this is our most expensive recommendation, but it comes with a rotisserie attachment that allows you to roast and rotate a whole chicken, freeing up your oven for other stuff. The grill comes with different attachments, one for thicker cuts of meat and another for fish, shrimp, or thin vegetables, which is a nice option to have.  
Comes with rotisserie
Good at grilling veggies
Best Budget Grill Pan
Lodge Cast Iron Grill Pan
• Dimensions: 10.5 x 10.5 in. 
You don't always need a grill to grill. Sometimes, a cast-iron grill pan like this one from Lodge does the trick. You can cook it on the stovetop or throw it into your oven, where you can really get a great caramelizing effect at high temperatures—especially with a convection oven—then finish with a broil. Your cooking-purist friends will even give you a nod of respect, and the cost, at around $20, makes it a great addition to any kitchen. 
Inexpensive
Works in the oven
Best Grill Pan
The Rock Reversible Grill/Griddle Pan
The Rock
amazon.com
$36.88
• Dimensions: 12 x 18 in.
This is Villacorta's secret weapon for grilling in the oven. You know all of those sheet pan recipes? Villacorta cooks them on this grilling sheet instead to maximize grilled flavor. This sheet does double duty too: One side is for grilling; the other is a flat surface for baking or making pancakes. 
Better than a sheet pan
Inexpensive
Best Grill for Making Waffles
Breville Sear & Press Grill
Breville
williams-sonoma.com
$179.95
• Dimensions: 14.75 x 13.75 x 8.5 in.
This multitasker is similar to the Cuisinart model, but Breville offers several accessories, including our favorite: waffle-making plates. You'll be the weekend brunch hero when you trot those out. This indoor grill also comes with independent temperature controls, easy swap-out plates, and easy-to-clean grilling surfaces.  
Easiest to Use
All-Clad 5-Level Electric Indoor Grill
All-Clad
williams-sonoma.com
$299.95
• Dimensions: 19.25 x 14.25 x 9 in.
This model comes from All-Clad, which has a reputation for building long-lasting appliances. It uses preprogrammed sensors, so rather than bothering with temperature control, you can just hit a button for burgers, sandwiches, or lamb sausages, and the machine does the rest. There's even a frozen function for automatic defrosting. This appliance will let you know when your food is rare, medium rare, or medium—even well done, if you have a family member who likes their meat to have the texture of leather. 
Well built
Easy-to-set temperature
Best for Taking Outdoors
George Foreman Indoor/Outdoor Electric Grill
George Foreman
amazon.com
$145.50
• Dimensions: 22.2 x 20.5 x 13 in.
Want the benefits of an easy indoor grill but also want to use it to cook outside on your patio? Try this George Foreman model, which can be used indoors on a countertop or outside on its included stand. It looks more like a traditional charcoal grill with its dome lid, but it cooks with electric heat, which you can adjust with a dial. It's easy to use, creates less mess than a traditional grill, and is a good option for apartments or other spaces that prohibit gas and charcoal grills. 
Can be used outside
Large cooking surface
Best Budget Grill
Hamilton Beach Electric Indoor Searing Grill
Hamilton Beach
amazon.com
$54.99
• Dimensions: 7.99 x 14.29 x 13.78 in.
This Hamilton Beach model is a good budget option that comes with a bit more grilling power and user-friendly features than many other cheap models. You can adjust the temperature with the digital touchpad, and even head on up to 500 degrees for 90 seconds in sear mode, which will really kick that maillard reaction into overdrive. 
Inexpensive
Heats to 500 degrees
This content is created and maintained by a third party, and imported onto this page to help users provide their email addresses. You may be able to find more information about this and similar content at piano.io
Advertisement – Continue Reading Below